2020 Season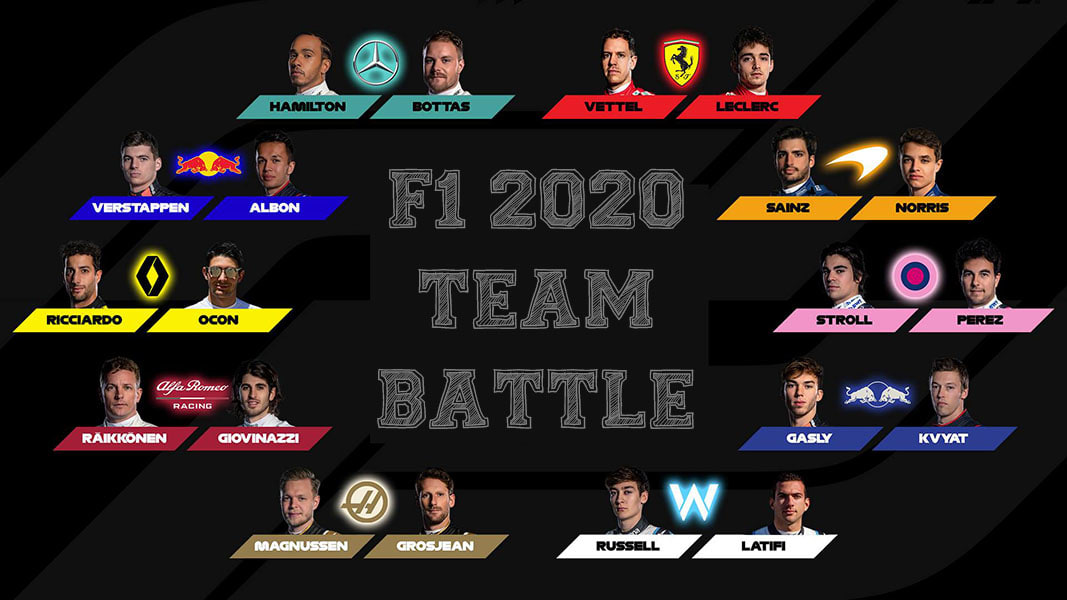 Feature
Team-mate battles in 2020
Mercedes - Lewis Hamilton Vs Valtteri Bottas
Red Bull - Max Verstappen Vs Alex Albon
Racing Point - Sergio Perez Vs Lance Stroll
McLaren - Carlos Sainz Vs Lando Norris
Ferrari - Sebastian Vettel Vs Charles Leclerc
Renault - Daniel Ricciardo Vs Esteban Ocon
AlphaTauri - Pierre Gasly Vs Daniil Kvyat
Alfa Romeo - Kimi Raikkonen Vs Antonio Giovinazzi
Haas - Romain Grosjean Vs Kevin Magnussen
Williams - George Russell Vs Nicholas Latifi
Constructor Standings
| Team | Points |
| --- | --- |
| | 573 |
| | 319 |
| | 202 |
| | 195 |
| | 181 |
| | 131 |
| | 107 |
| | 8 |
| | 3 |
| | 0 |
Driver Standings
| Driver | Points |
| --- | --- |
| | 347 |
| | 223 |
| | 214 |
| | 125 |
| | 119 |
| | 105 |
| | 105 |
| | 98 |
| | 97 |
| | 74 |
ROUND 17 - Abu Dhabi GP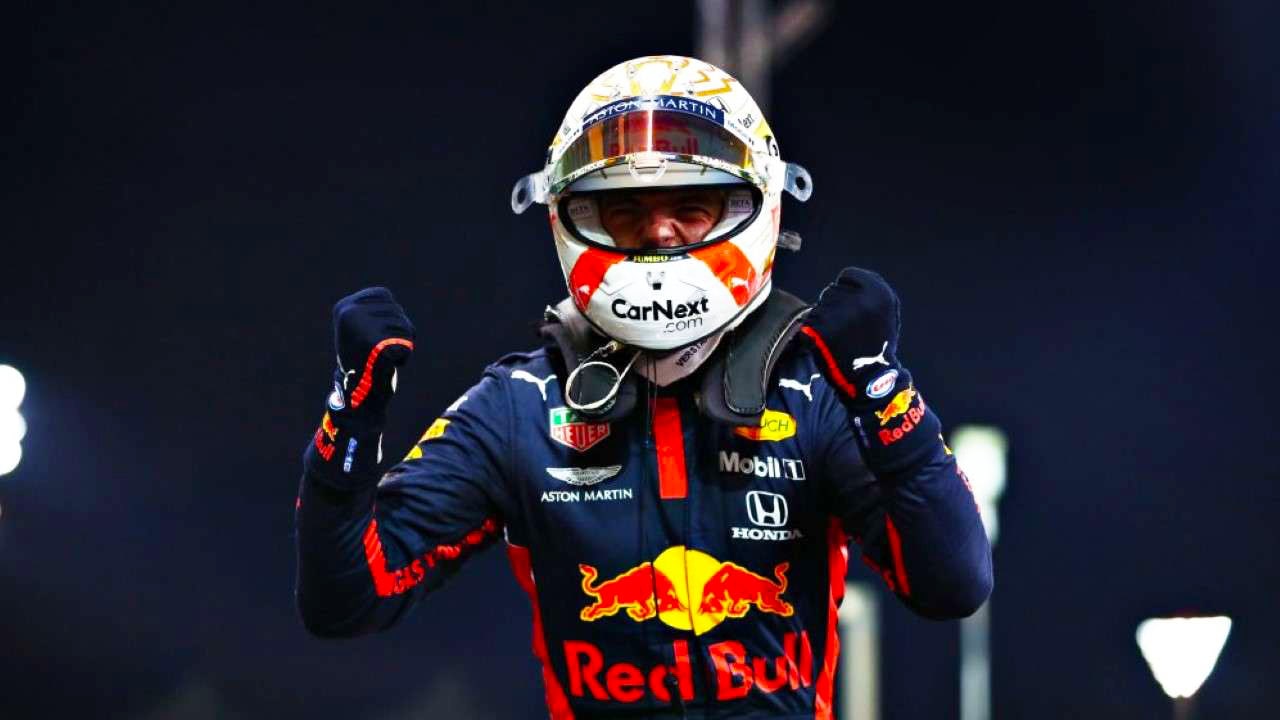 FP1 REPORT - Bahrain GP 2020
Verstappen wins the season finale with Bottas in Second and Hamilton in third
Dominant Max Verstappen took his second victory of 2020 at the Abu Dhabi Grand Prix season finale, beating the Mercedes duo of Valtteri Bottas and Lewis Hamilton. A circuit perfected by Mercedes after having taken every pole and race win in Abu Dhabi since 2014, had no answer for the Red Bulls in 2020 at Yas Marina Circuit. Verstappen's team mate Alex Albon also impressed with a P4 finish and couldn't convert his last stint into a podium. McLare's Lando Norris and Carlos Sainz finished P5 and P6 to claim third in the constructors'.
Daniel Ricciardo on his final outing for Renault came home seventh, ahead of the AlphaTauri's Pierre Gasly. Esteban Ocon in the second Renault overtakes sole surviving Racing Point Lance Stroll in the final lap for P9. Sergio Perez in the other Racing Point had to retire his on Lap 10 of the race car with a suspected transmission issue, an unfortunate end to the Racing Point career of last week's race winner. This means Racing Point had to settle with one point from the final race and there by pushed to fourth in the constructors championship. Daniil Kvyat in the second AlphaTauri and Kimi Räikkönen in Alfa Romeo comes next in P11 and P12.
On his final race for Ferrari, Sebastian Vettel finished P14, just behind team mate Charles Leclerc. Last week's star performer George Russell managed P15 on his return in Williams as his team mate Nicholas Latifi finished P17. Antonio Giovinazzi in the second Alfa Romeo took P16 while in what looks to be his last race in F1, Kevin Magnussen finished P18 for Haas. Kevin's team mate Pietro Fittipaldi was the last classified driver in P19 with Sergio Perez was the sole retiree of the last race of 2020 season. As the 2020 season wraps for F1 at Abu Dhabi it's been an unique and unlikely event with all the teams and drivers having contributed a fast-paced Formula 1 season that will live long in the memory. For some of those drivers, it looks to be the end of the road in F1, while others will return next year with new teams.
Abu Dhabi GP 2020 - Race Results
Pos
Driver
Time
Pit
1

Max Verstappen

(Red Bull)

1h 36m 28.645
1
2

Valtteri Bottas

(Mercedes)

+15.976s
1
3

Lewis Hamilton

(Mercedes)

+18.415s
1
4

Alexander Albon

(Red Bull)

+19.987s
1
5
+60.729s
1
6
+65.662s
1
7

Daniel Ricciardo

(Renault)

+73.748s
1
8

Daniil Kvyat

(AlphaTauri)

+89.718s
1
9
+101.069s
1
10

Lance Stroll

(Racing Point)

+102.738s
1
Abu Dhabi GP 2020 - Qualifying Results
Pos
Driver
Lap time
Tyre
1

Max Verstappen

(Red Bull)

1:35.246

S

2

Valtteri Bottas

(Mercedes)

+0.025s

S

3
+0.086s

S

4
+0.251s

S

5
+0.325s

S

6
+0.569s

S

7

Daniil Kvyat

(Alpha Tauri)

+0.717s

S

8

Lance Stroll

(Racing Point)

+0.800s

S

9
+0.819s

S

10

Pierre Gasly

(Alpha Tauri)

+0.996s

S
ROUND 16 - Sakhir GP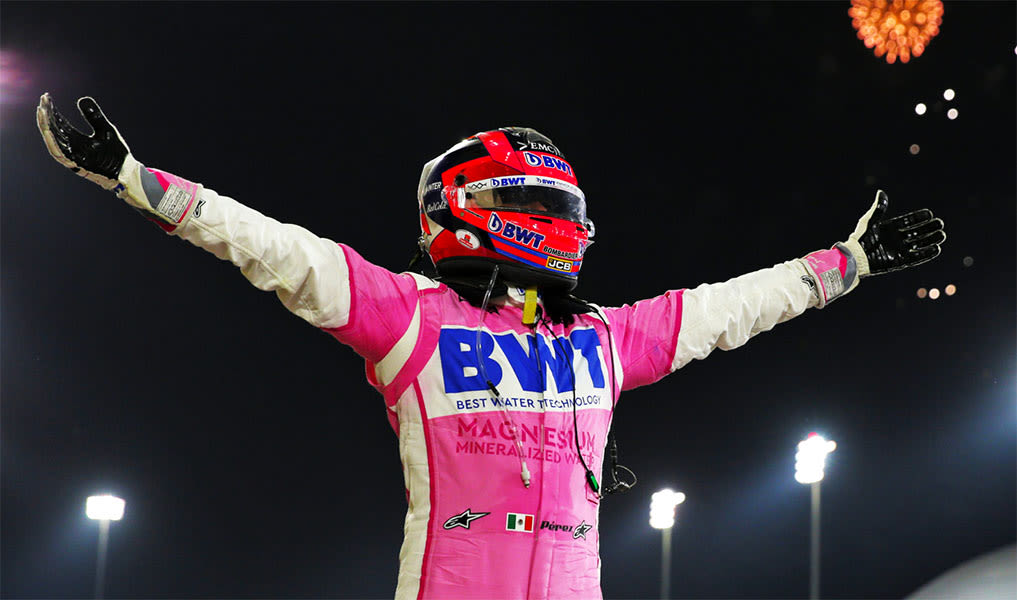 Race Report - Sakhir GP 2020
Sergio Perez claims his maiden win in Sakhir GP after dropping to last place in lap 1 with Ocon in second and Stroll in third
Sergio Perez takes a sensational first ever Formula 1 victory in Sakhir GP after Mercedes' nightmare pitstop saga. Perez on his 190th F1 start, had been forced to pit at the end of Lap 1 after getting caught up in a Turn 4 crash that eliminated Ferrari's Charles Leclerc and Red Bull's Max Verstappen, dropping him to last place. The Mexican keeps on improving by overtaking multiple cars in the Sakhir Outer circuit and eventually allowed him to benefit from Mercedes' pit error which messed up the strategy and podium finishes for both their drivers, to sensationally claim his and Racing Point's first ever victory, a week after an MGU-K failure had robbed him of a podium. After a difficult return to F1, Renault's Ocon claimed his first ever podium finish in second, with Stroll holding off a charging Carlos Sainz to take his second third of the year. McLaren driver Carlos Sainz finished in fourth and Renault's Daniel Ricciardo in P5.
Alex Albon, the sole surviving Red Bull finished in sixth, ahead of the AlphaTauri of Daniil Kvyat in P7. The Mercedes pair of Bottas and Russell eventually ended up in P8 and P9 positions after leading the race for 3 quarter of the entire race. It had initially looked as though George Russell was set to pull off an incredible maiden victory on his first outing for Mercedes, having aced the start to lead pole-sitter Valtteri Bottas for the majority of the Grand Prix. But Mercedes gave Russell the wrong tyres when he was pitted under a Safety Car on Lap 62 of 87, forcing another pit stop to correct the error. After a while Russell then suffered a puncture that left him P9 at the flag for what was at least his first ever F1 points finish. Lando Norris in the second Mclaren ensured a point finish for the team after been forced to start from back of grid for use of additional power unit elements.
Pierre Gasly in the second AlphaTauri finished 11th ahead of the sole surviving Ferrari of Sebastian Vettel. Both Alfa Romeos follows next with Antonio Giovinazzi finishing ahead of Kimi Räikkönen. Haas' Kevin Magnussen finished in fifteenth ahead of Williams' Jack Aitken, who replaced George Russell. Pietro Fittipaldi in the Haas was the last classified driver to finish in 17th. On lap 55, Nicholas Latifi of Williams pulled to the side of the track and was out of the race due to mechanical failure was the only retirement other than Charles and Max.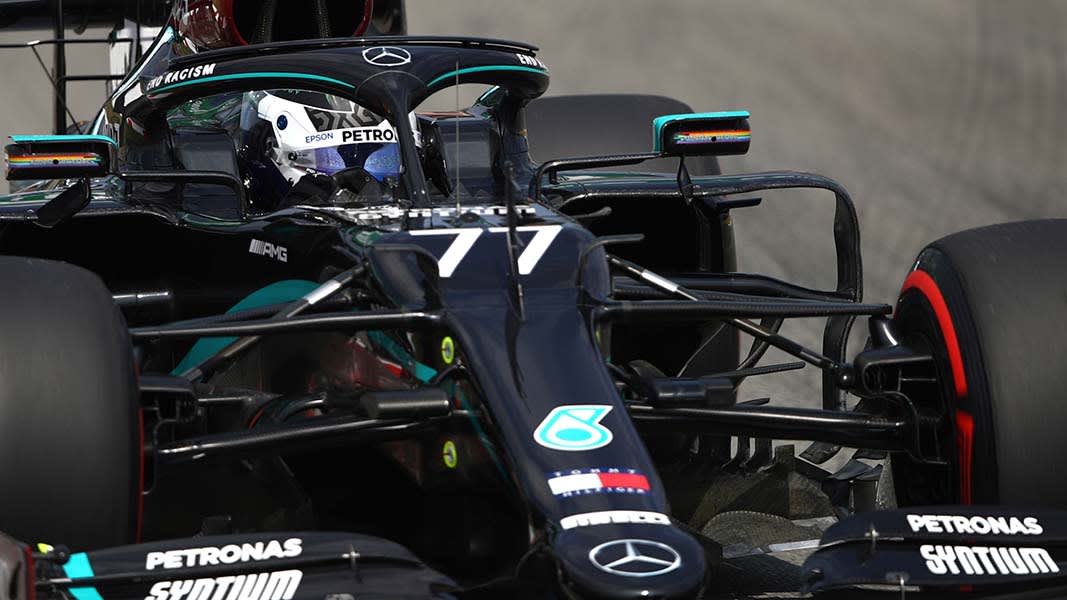 QUALIFYING REPORT - SAKHIR GP 2020
Bottas secures the pole in Sakhir with Russel in second and Verstappen in third
Valtteri Bottas of Merecdes became the fastest driver in Saturday qualifying for Sakhir GP at Bahrain International circuit. His team mate George Russell, finished P2 agonisingly close to his maiden pole position by just 0.026s, but endured another Mercedes 1-2. Red Bull's Max Verstappen, the next best challenger finished in P3, which was 0.030s further back, in what was an incredibly close session on F1's shortest circuit. Charles Leclerc did just one run surprised everyone and his team but it was good enough for a remarkable fourth for the fourth time this season. Sergio Perez in racing point, who is running an old spec engine after suffering a failure that cost him a podium last time out in Bahrain, qualified P5 for the second successive week, one place ahead of AlphaTauri's Daniil Kvyat whose P6 is his best since the 2019 Azerbaijan Grand Prix.
Daniel Ricciardo was the best-placed Renault in P7, just edging out Carlos Sainz , the only McLaren in top ten. Pierre Gasly in the second AlphaTauri's finished P9 with the second Racing Point of Lance Stroll rounding out the top 10. Esteban Ocon who showed good pace in practice sessions, but missed out Q3 and only managed P11. Alexander Albon in the struggling second Red Bull ended up four tenths off the time of the Dutchman team mate and finished in 12th. Sebastian Vettel with his new engine, swapped in between FP3 and qualifying managed P13, which was his usual position for 2020 season.
Antonio Giovinazzi became the fastest Alfa Romeo with P14 finish with Lando Norris in the second McLaren. The Briton was disappointed with himself on team radio, apologising for making a mistake on his second run, leaving him 15th, 11 places behind Sainz. Kevin Magnussen on Haas finished P16 ahead of both Williams of Nicholas Latifi and the debutant Jack Aitken in P17 and P18 respectively. Alfa Romeo's Kimi Raikkonen disappoints with a P19 finish struggling to find pace in the outer short circuit layout. Pietro Fittipaldi the substitute for injured Roman Grosjean, rounded of the classified drivers list.
As the qualifying comes to an end, now the focus shift to the "new" short outer layout circuit of Bahrain. With but one minute laps expected in the race, it will be huge traffic for the drivers to manage with high pace and confusing back markers.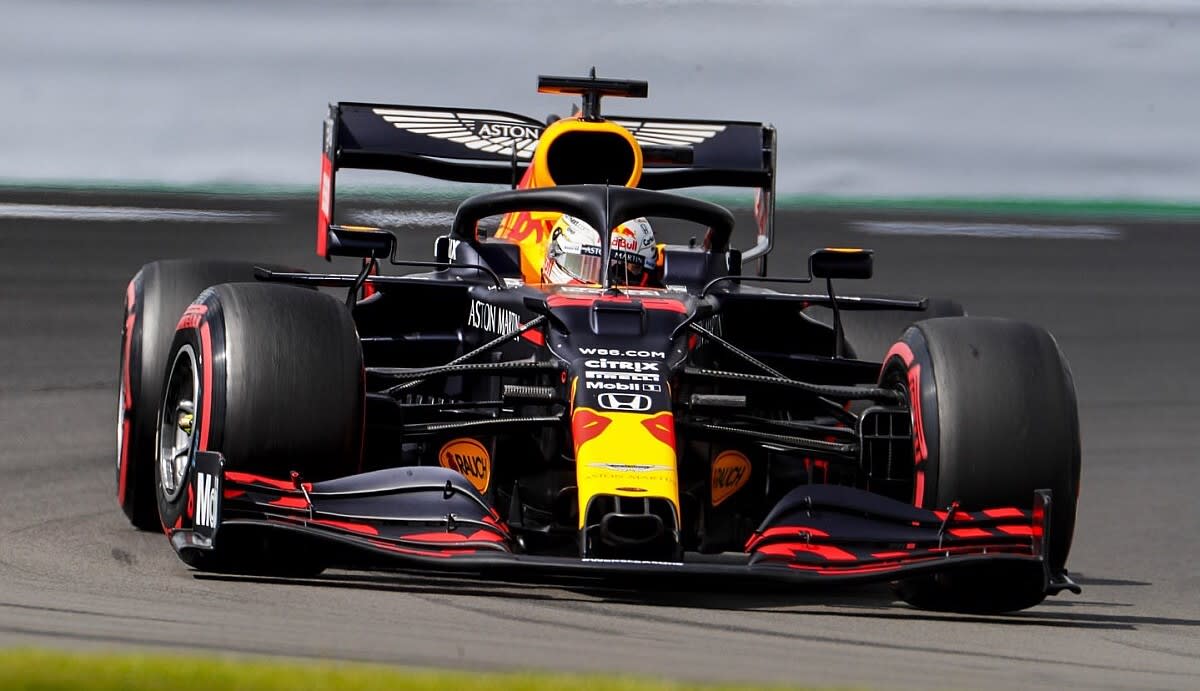 FP3 REPORT - SAKHIR GP 2020
Verstappen leads the final practice session ahead of Bottas and Gasly
Red Bull's Max Verstappen set the fastest lap of FP3 in Sakhir, and denied Mercedes a clean sweep. Incidentally, the time set by Max in FP3 became the fastest time was 54.064s of the weekend so far which glimpses the close race that we could expect for the weekend. Merecdes' manages P2 and AlphaTauri's Pierre Gasly impressed with a P3 performance in the race like conditions under lights. Bottas was 0.206s behind the leader on this short track, whereas Gasly was 0.363s off top spot. FP1 and FP2 leader George Russell could only manage seventh, locking up heavily on a late soft-tyred run. Another person who impressed in FP3 was Renault's Esteban Ocon with a P4 finish in FP3 , just 0.026s behind Gasly. McLaren's Lando Norris rounding out the top five list, half a second adrift from the leader.
Alex Albon in the second Red Bull only managed P6 which was half a second off his team mate at the top. Behind Russel, both Racing Points finished in top 10 with Sergio Perez leading Lance Stroll in P8 and P9 respectively. Carlos Sainz in the second McLaren finished in P10 which was by just over a tenth second from his the teammate Norris. Antonio Giovinazzi in Alfa Romeo managed a P11 finish ahead of Daniil Kvyat in the second AlphaTauri. Ferrari finished 13th and 15th, with Charles Leclerc ahead of Sebastian Vettel. The two were split by 0.004s as they appear to be neck-and-neck ahead of qualifying. Leclerc spun on his final lap of the session, ruining hopes of an improvement from P13. Unfortunately, Vettel's session ended early as he encountered a power unit failure with around 15 minutes left. His engineers are now left with the task of changing his engine, as a precaution, before qualifying.
Between the Ferraris Daniel Ricciardo finished in P14 as he had a scary moment on a late run at sector 2 and might have damaged his floor, as he went over the kerbs. Alfa Romeo's veteran Kimi Raikkonen could only finish 16th, while Haas' Kevin Magnussen finished 17th. Williams finished 18th and 20th with Nicholas Latifi ahead of Jack Aitken, who is in for George Russell this weekend. Haas' Pietro Fittipaldi standing in for the injured Romain Grosjean ended up 19th, but will start his race in the back as the Haas debutant, this weekend, will be hit with a grid penalty as he's taken new control electronics and energy store this weekend exceeding his car's allocation. Notably, in the FP3 the whole field split by just 1.606s which shows how short and pacey the track will be for the Sunday race.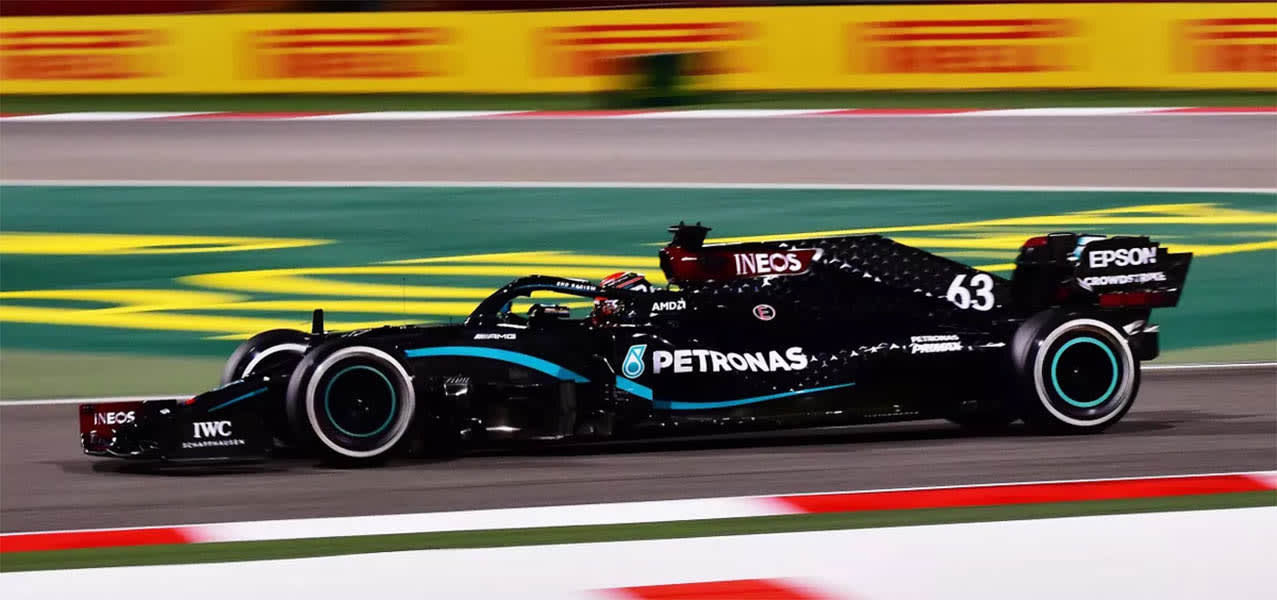 FP2 REPORT - SAKHIR GP 2020
Mercedes sub Russell completed a clean sweep on Friday practice sessions at Sakhir GP
George Russell in place for Lewis Hamilton continued his impressive performance for Mercedes at the Sakhir Grand Prix, leading the second straight session of Friday with a time of 54.713s , two-tenths slower than FP1 time. Red Bull's Max Verstappen once again took second place which was 0.128s slower than Russel, ahead of the Racing Point of Sergio Perez. Esteban Ocon for Renualt finished an impressive fourth ahead of Alexander Albon in the second Red Bull. Daniil Kvyat for AlphaTauri once again outpaced his teammate and finished sixth, with Pierre Gasly finished in ninth. In the final moments of the session, Gasly suffering a scare after being struck painfully on the finger by some flying gravel.
Behind Kvyat, the second Racing Point of Lance Stroll finished in seventh and the second Renault of Daniel Ricciardo in eight. Carlos Sainz of McLaren rounded off the top ten list with Valtteri Bottas in second Mercedes only manged P11 on hard compounds. Valtteri Bottas's performance looks a in bit worrying in FP2, as the Finn was not looking comfortable around the shorter circuit configuration. Behind Bottas, both Alfa Romeos finished in eleventh and twelfth with Kimi Raikkonen leading his Alfa Romeo team mate Antonio Giovinazzi.
Haas' Kevin Magnussen was 14th, ahead of the Williams of Nichol Latifi in 15th. Meanwhile, It was a forgettable session for Ferrari on Friday night as Sebastian Vettel ended up 16th, with multiple spins on his first flying lap in the qualifying simulations, before then running wide on another. His team mate Charles Leclerc suffering a driveshaft issue after just two laps, and failing to set a time. Lando Norris ended up P17 was also having issues, running over a kerb and damaging his floor early on, forcing his McLaren team to carry out repairs, before then suffering an issue that sent him back to the pits. F1 debutants, Haas' Pietro Fittipaldi and Williams' Jack Aitken, who both kept their noses clean in FP2, with Fittipaldi leading Aitken.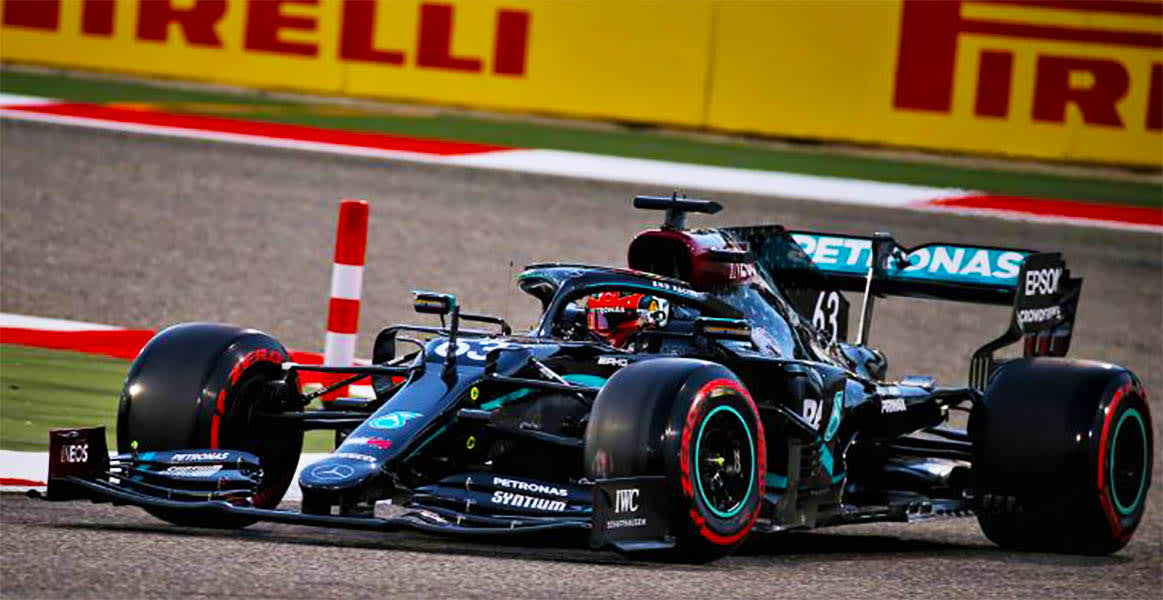 FP1 REPORT - SAKHIR GP 2020
George Russell leads the first practice session of Sakhir GP on his Mercedes debut ahead of Red Bulls
Russell in Mercedes sets the with quickest time in FP1 on the Outer loop track configuration in Bahrain. In the absence of Lewis Hamilton, who has been ruled out due to covid 19, Russell has taken his place at Mercedes this weekend and finished his first session with a lap of 54.546s. Not surprisingly, Russell got the highest mileage of all drivers with 49 laps clocked lap and his quickest lap was 0.332s faster than team mate Valtteri Bottas' best effort, who was fourth quickest behind Russell and the two Red Bulls. Max Verstappen finished second ahead of Alex Albon with nine hundreds separating the Red Bull drivers. AlphaTauri's Danil Kvyat and Pierre Gasly follows Bottas in fifth and sixth.
Sebastain Vettel was the fastest Ferrari in eight splitting the Renaults of Esteban Ocon in seveth and Daniel Ricciardo in ninth. Charles Leclerc rounds the top ten list with the last driver within the one second of the lead driver. Racing points couldn't impress the last weeks form with both drivers out of the top ten list. Lance Stroll was the lead driver in eleventh with Sergio Perez in twelfth. Both McLarens were also absent from the top-10 in FP1 with Carlos Sainz in 13th having spent considerable time in the garage for repairs thanks to this circuit layout's bumps and heavy kerbs with Lando Norris only managing 16th.
Alfa Romeos of Kimi Raikkonen in 14th-place and Antonio Giovinazzi in 15th-place splits the McLarens with Kevin Magnussen for Haas in 17th spot. Nicholas Latifi the fastest Williams in FP1 finished in eighteenth ahead of Pietro Fittipaldi in the second Haas. After the near lethal crash, Romain Grosjean recovers from his minor injuries, Pietro Fittipaldi was named as his replacement. He was just under a second off team mate Kevin Magnussen. Behind Fittipaldi was Williams' reserve driver, Jack Aitken, who stands in for Russell this weekend. Aitken rounded out the standings, 2.157s off Russell in the Mercedes.
ROUND 15 - Bahrain GP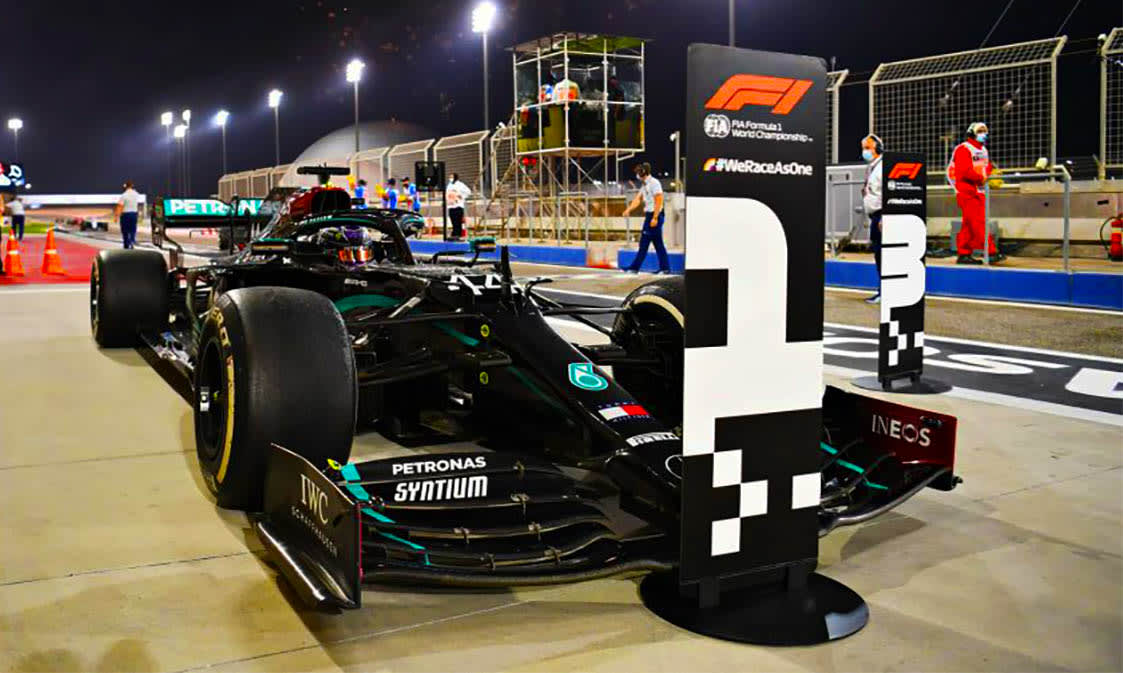 Race REPORT - Bahrain GP 2020
Hamilton wins Bahrain GP as Grosjean survives a fiery accident
Seven time champion Lewis Hamilton took his 11th victory of his title-winning Formula 1 2020 season, which was eclipsed by Romain Grosjean's horrific accident and Sergio's late heartbreak. The Red Bull pair of Max Verstappen and Alex Albon grabs the rest of podium places. Racing Point's Sergio Prerez was crusing smoothly to his first consecutive second podium of his career behind the leading pair, before the Mexican's Racing Point expired spectacularly with a suspected power unit issue three laps from the end, which promoted Albon up to third. McLaren duo claimed fourth and fifth with Lando Norris leading home Carlos Sainz, while their 22 point finish saw them move ahead of the point-less Racing Point to P3 in the constructors' standings.
Earlier on Lap 1, Grosjean's Haas car plunged into the barriers at Turn 3 after clipping Daniil Kvyat's Alpha Tauri. The car speared between layers of the barrier, splitting the car into two with the Frenchman in one half with engulfing in fire. Miraculously, Grosjean could lean out of the inferno within several seconds of his cockpit as the medical crews and the marshals rushed to help. He managed to extricate himself and was helped over the barrier by FIA doctor Ian Stewart, who was in the medical car that rushed to the scene. Shaken by the accident, Grosjean initially seated in the medical car before being helped into an ambulance and then flown swiftly transported to the Bahrain Defence Force Hospital, where he stayed overnight for treatment. Luckily, he had not suffered any fractures, but has few burns on the back of both of his hands and some minor injuries. Later Grosjean said, "I'm okay, well, sort of okay," holding up bandages covering his burnt hands. "I wasn't for the halo some years ago but I think it's the greatest thing we brought to Formula 1 and without it I wouldn't be able to speak to you today. "Thanks to all the medical staff at the circuit, at the hospital, and hopefully I can soon write you quite some messages and tell you how it's going."
After a lengthy red flag period ensuing as the barriers were repaired after what had been a horrible incident, at the restart Racing Point's Lance Stroll was rolled over after contact with AlphaTauri's Daniil Kvyat ending his race. AlphaTauri's Pierre Gasly with a different but risky statergy, crossed line in a well-deserved P6, ahead of the Renault of Daniel Ricciardo and Mercedes' Valtteri Bottas who suffered a puncture at the race restart on Lap 3. The top 10 was rounded out by the second Renault of Esteban Ocon and the Ferrari of Charles Leclerc in P10. Behind the Ferrari Daniil Kvyat finished Eleventh with George Russell in Williams twelfth and Sebastian Vettel in the second Ferrai in thirteenth. Nicholas Latifi in the second Williams followed by the two Alfa Romeos of Kimi Räikkönen and Antonio Giovinazzi with Kevin Magnussen of Haas rounded of the classified list.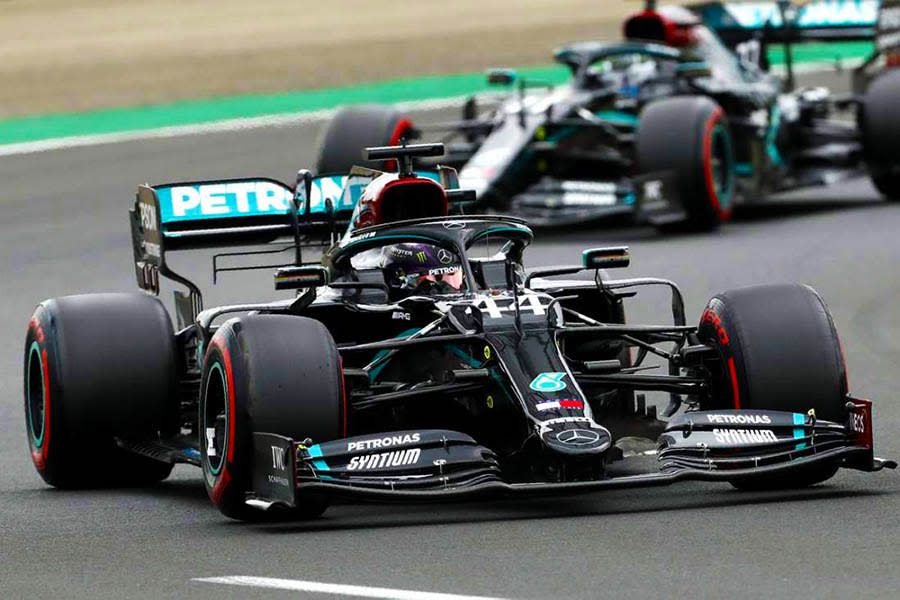 Qualifying REPORT - Bahrain GP 2020
Lewis Hamilton grabs his third pole in Bahrain with Bottas in second and Verstappen in third
Hamilton beats Bottas and Verstappen and takes 98th pole at Bahrain International Circuit with a new track record. His team mate Valtteri Bottas finished second ensuring a Mercedes 1-2 finish at Bahrain. Red Bull's Max Verstappen stood no chance in front of Mercedes power and had to settle for third. Alex Albon in the second Red Bull manages a second row start with a P4 finish with half a second behind his team mate Max and nearly 1 second behind the pole sitter. Racing Point's Sergio Perez managed a respectful fifth with both Renault cars of Daniel Ricciardo and Esteban Ocon in P6 and P7 respectvely.
Both Alpha Tauris managed a top ten finish with Pierre Gasly finishing ahead of Daniil Kvyat in P8 and P10 respectively, sandwiching McLaren's Lando Norris in P9. Both Ferrari's got knocked out in Q2 and only managed P11 and P12 with Sebastian Vettel finishing ahead of his team mate Charles Leclerc. Last race pole sitter Lance Stroll only manged P13 as the team got it wrong by using the used set of medium for the red flag interpreted Q2 session. Mr. Saturday, George Russell once gain outclassed his team mate and ensured yet another Q2 appearance with a P14 finish. Carlos Sainz in second McLaren suffered a mechanical problem that caused a spin and ended his qualifying early in Q2 and will start in fifteenth, without a time plotted against him in Q2.
Both Alfa Romeos and Haas couldn't make into Q3 with Antonio Giovinazzi finishing ahead of his veteran team mate Kimi Raikkonen in p16 and P17 respectively. Kevin Magnussen finished ahead of Romain Grosjean again in the season with the Danish driver in P18 and the French driver in P19. Nicholas Latifi of Williams rounded of the classified driver list in P20. With Mercedes locking the front row of the grid and the Red Bull with better tyre management, the race on Sunday seems to be the battle of strategies as the track is bound to fill with overtakes and action packed racing. With tyre degradation expected to be crucial on Sunday evening, the team with better tyre management will fancy their chances to alter the race results.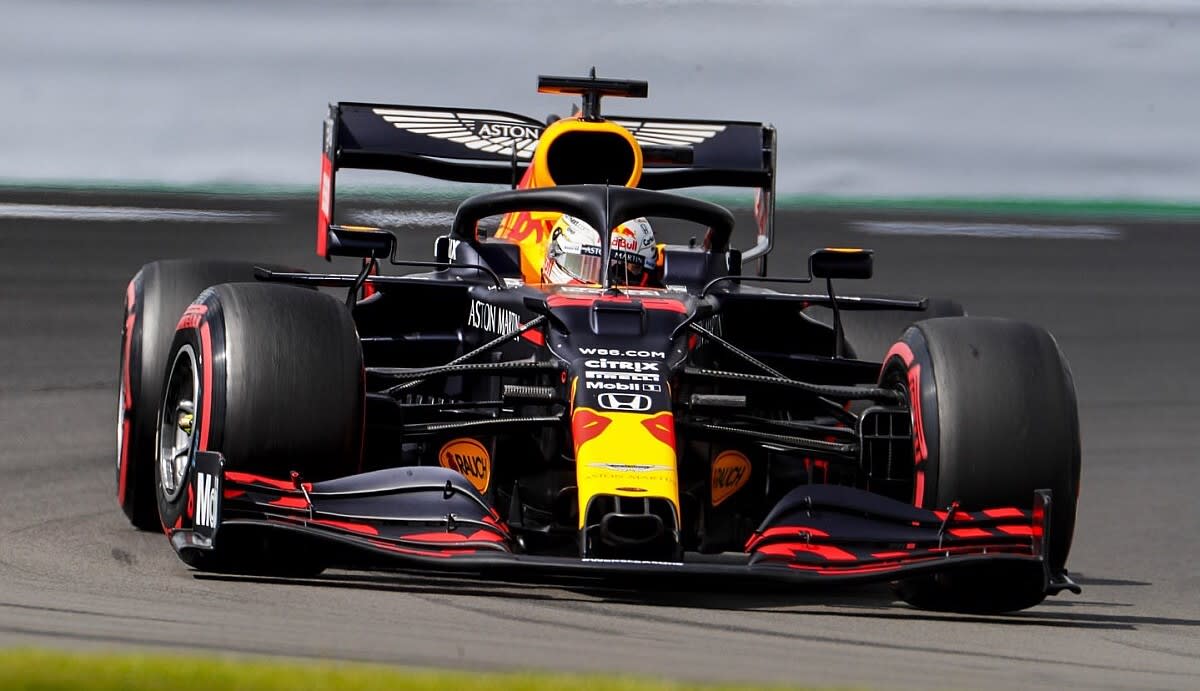 FP3 REPORT - Bahrain GP 2020
Verstappen goes fastest in the final practice session ahead of Hamilton and Bottas
Red Bull's Max Verstappen set the fastest lap of FP3 in Bahrain, ahead of Mercedes duo Lewis Hamilton in P2 and Valtteri Bottas in P3. Ahead of evening qualification, all teams and drivers opted to run on red softs rather than any other compounds. At mid-session, Verstappen went to the lead and set the benchmark time of 1m28.355s. Hamilton managed P2 and finished 0.263s off Verstappen, and just a tenth faster than his Mercedes team mate Bottas. Once again a big job by the top class red Bull mechanics rebuilding Alex Albon's RB16, who had a chassis change overnight after crashing heavily out of FP2 on Friday. The Thai driver finished in P4 with six-tenths behind his team mate. Fifth fastest was McLaren's Carlos Sainz, while his team mate Lando Norris was seventh.
Sandwiched by McLarens, AlphaTauri's Pierre Gasly finished P6 with his team mate Daniil Kvyat in eighth making all the Honda powered card in top 10 list. Kvyat had a power unit change, though he is still within his limit for the season so won't get a grid penalty. Racing Point followed up in ninth and 10th with Lance Stroll ahead of Sergio Perez who made clear that the team would sacrifice one-lap pace for race gains. Behind Perez, both Renaults placed both their cars with Daniel Ricciardo in 11th and Esteban Ocon 12th respectively. Last year's pole sitter Ferrari were out of the top 10, with Sebastian Vettel 13th and his team mate Charles Leclerc 15th.
Alfa Romeo's Antonio Giovinazzi splits the Ferraris, taking P14 with his veteran team mate Kimi Raikkonen only managed P19. Giovinazzi was followed by the Williams of George Russell in 16th. Haas finished in 17th and 18th with Romain Grosjean just in front of Kevin Magnussen. Russell's team mate Nicholas Latifi finished 20th, with his power unit's fuel system replaced overnight as the Williams mechanics burned the midnight oil. As the practice sessions drawn close with Verstappen ahead of the Mercedes in the final practice session of Bahrain, qualifying will be interesting along with the battle for the third spot in the constructors title.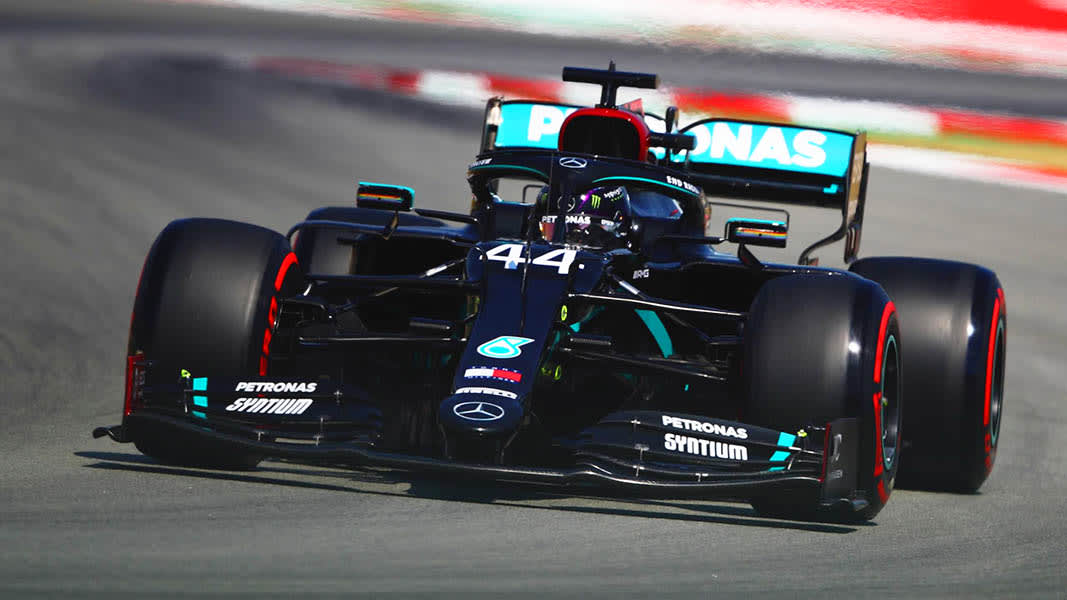 FP2 REPORT - Bahrain GP 2020
Hamilton heads the second practice session under lights with Verstappen in second and Bottas in Third
Mercedes' Lewis Hamilton continues his impeccable form to Friday night at Bahrain International Circuit as he sets the fastest time in the second practice session. Red Bull's Max Verstappen finishes second +0.347s behind the leader with Medium compounds, as most of the fast runners opted for softs. The second Mercedes of Valtteri Bottas managed second which is a couple hundredth from the Verstappen's time. Sergio Perez for racing point finishes fourth ahead of Renault's Daniel Ricaardo and keeps third place battle in the constructors title alive. Pierre Gasly for AlphaTauri was sixth with his team mate Danil Kvyat in ninth. Lando Norris finished seventh after improving his performace from the first practice session.
Lance Stroll in the second Racing Point crossed the line in eight as Racing Point managed slotting both their cars in top ten. Alex Albon in the second Red Bull crashes heavily through the final corner during the session bringing the red flags. Albon, who fortunately emerged seemingly unhurt from the incident managed tenth spot before the accident has given the Red Bull mechanics a long night with the front and rear wing and right-side wheels ripped from the car. After a red flag stoppage, followed by another one when a dog found its way onto the track, many drivers rushed to complete their interrupted qualifying simulations.
Renault's Esteban Ocon was 11th, finishing narrowly ahead of the Ferrari of Sebastian Vettel, with the McLaren of Carlos Sainz in 13th. Charles Leclerc found himself outpaced by Ferrari team mate Vettel after a small error on his fastest lap, finishing 14th and ahead of the Alfa Romeo of Antonio Giovinazzi and the Haas of Kevin Magnussen, who also set his best time on the mediums. Kimi Raikkonen was back in his Alfa Romeo, having given it to Robert Kubica this morning, going 17th fastest on the mediums, ahead of the Williams of Nicholas Latifi. Romain Grosjean finished P19 in an "undriveable" Haas, as per the Frenchmen ahead of the second Williams of George Russell in P20. Earlier the Briton had missed his FP1 session allowing Roy Nissany another F1 practice run.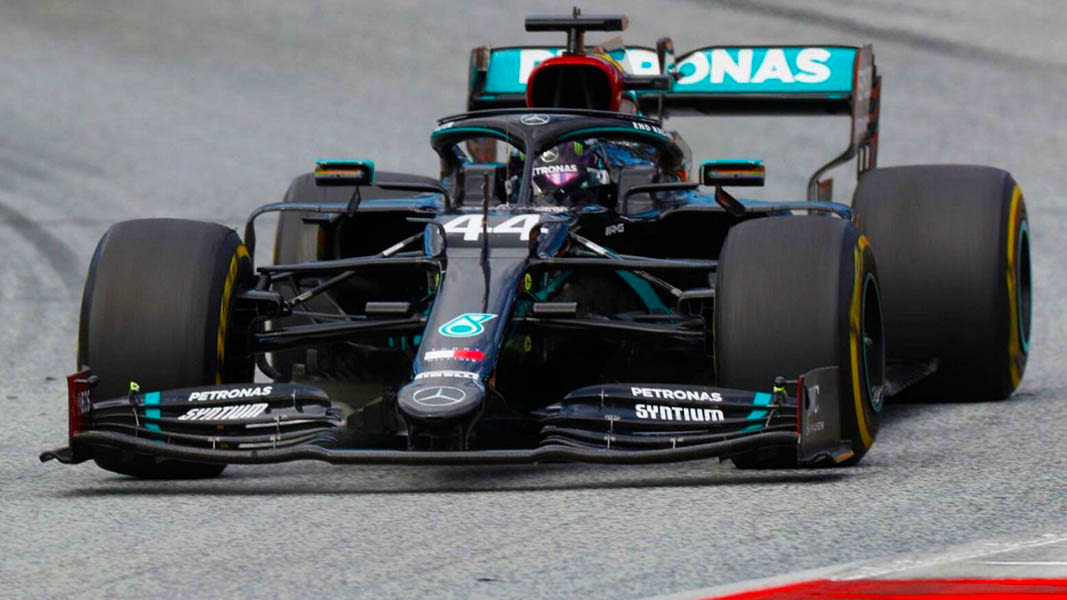 FP1 REPORT - Bahrain GP 2020
Hamilton set the fastest time in first practice session at Bahrain with Bottas in second and Perez in third
Mercedes duo Lewis Hamilton and Valtteri Bottas finished 1 and 2 in the in first practice session at Bahrain GP. Hamilton, the newly-crowned world champion headed the timesheets with a time of 1m29.033s on medium compounds which was 0.449s ahead of his team mate Bottas' pace. Later both drivers switched to Pirelli's prototype tyres for the 2021 season without using the softs in the FP1. Racing Point in the fierce fight for the third in the constructors' championship finished just ahead of McLaren, Renault and Ferrari as the Turkish GP podium-finisher Sergio Perez third quickest in this session - nearly a second off Hamilton on softs. McLaren's Carlos Sainz was fourth overall, just behind Perez, as the last driver within a second of Hamilton.
AlphaTauri's Pierre Gasly went briefly top in the session on medium compounds before falling to fifth overall was the best of Honda powered cars. Red Bull's Max Verstappen took sixth and finished just 0.007s ahead of seventh-place team mate Alex Albon. Max was only able to clock 18 laps which made him the least driven front runner. The Renaults were split by Racing Point's Stroll, with Esteban Ocon a late improver to P8 on softs and Daniel Ricciardo rounding out the top 10 on mediums. Last year's Bahrain GP pole-sitter Charles Leclerc ran wide at Turn 3 but continued on to finish 11th as Ferrari tested various parts throughout the session. His team mate Sebastian Vettel finished P12 as both Ferrari drivers having used softs to set their fastest laps.
Robert Kubica, replaced Kimi Raikkonen for FP1 at Alfa Romeo and finished 13th, ahead of both Haas of Romain Grosjean and Kevin Magnussen in P14 and P15 respectively. The second Alfa Romeo of Antonio Giovinazzi finished next in P16 ahead of Daniil Kvyat in P17 in AlphaTauri and Lando Norris in McLaren at P18. Williams duo of Nicholas Latifi and FP1 stand-in Roy Nissany rounded out the standings. George Russell will return for FP2 session ahead of qualifying in Bahrain.
ROUND 14 - Turkish GP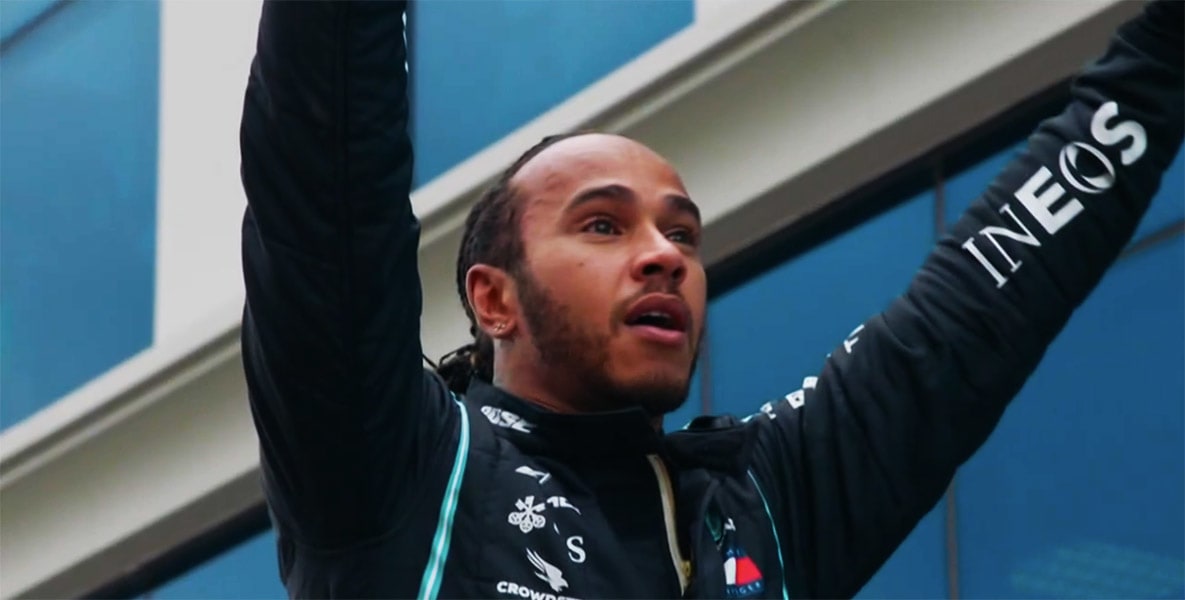 Race REPORT - Turkish GP 2020
Lewis Hamilton wins 2020 Turkish GP and clinches the 2020 Formula 1 world title, equalling the record of Michael Schumacher
Lewis Hamilton claimed the record equalling seventh drivers title with a stunning win in a wet and wild Turkish Grand Prix. Starting from sixth on the grid, Hamilton with his gut instincts and dominating driving shown the world how champions are made. After leading the race for most of the laps the pole sitter Lance Stroll couldn't convert his P1 to a race win and eventually ended his race in ninth position. Behind Hamilton, Sergio Perez and Sebastian Vettel claimed their first podium of the season. A dramatic last lap saw Ferrari's Charles Leclerc overtook Perez for P2, but got it wrong at Turn 12, with Perez retaking second as Vettel made it through on his team mate and finished third.
Leclerc crossed the line in fourth position ahead of the McLaren of Carlos Sainz. Red Bull on their 300 race start only managed P5 and P6 with Max Verstappen leading his team mate Alex Albon at the flag. Max and Alex who was in podium places during the first stint on race later got it wrong during the tricky second pit stop time, assisted with multiple spins. The second McLaren of Lando Norris finished P7 after a brave drive with multiple brave overtaking manoeuvres. The Renault duo Riccardo and Ocon behind Norris in P10 and P11.
Daniil Kvyat and Pierre Gasly of Alfa Tauri crosses the line next in P12 and P13 ahead of Valtteri Bottas, who had a terrible race with multiple spins. Kimi Räikkönen and Geroge Russel in P15 and P16 rounds off the classified drivers in 2020 Turkey GP. Both Haas drivers Kevin Magnussen and Romain Grosjean after suffering mid race collisions and multiple spins forced them to retire the race along with William's' Nicholas Latifi. Giovinazzi is the fisrt person to retire the race due to a mechanical issue which bought two-lap Virtual Safety Car out on Lap 13, surprisingly was the only VSC/SC incident of the race.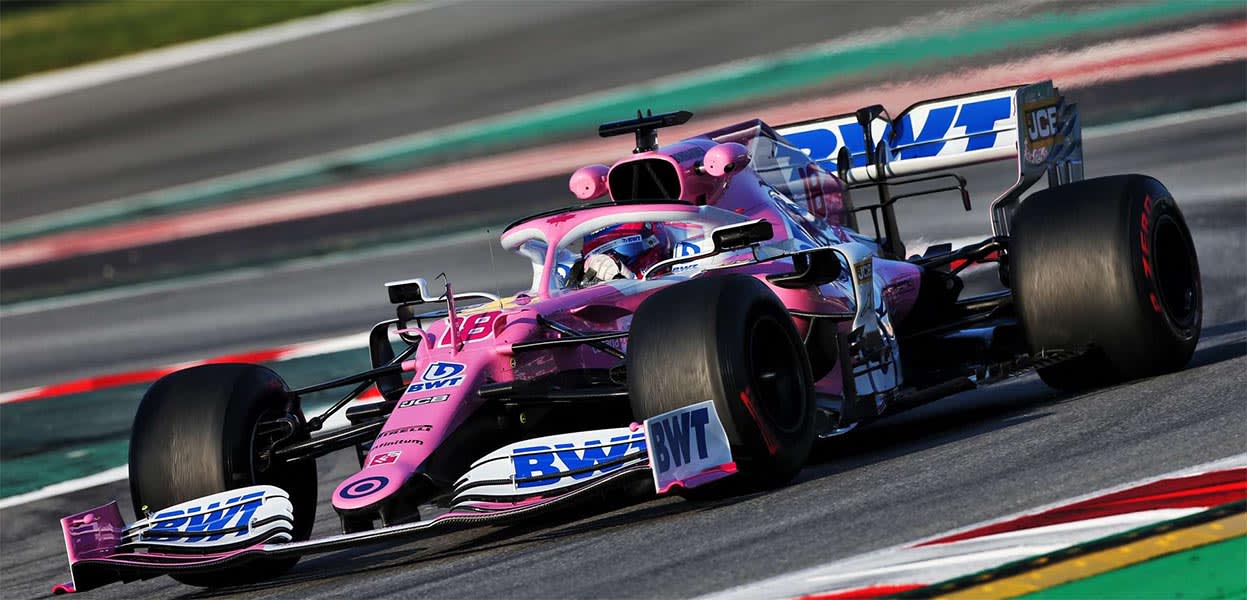 Qualifying REPORT - Turkish GP 2020
Lance Stroll secures an incredible maiden pole for Racing Point at 2020 Turkish GP
Stroll takes an exhilarating maiden pole in a chaotic wet qualifying at the Intercity Istanbul Park for Turkey GP. Racing Point's jubilation got doubled as Sergio Perez finished third as it was their their first-ever pole under this banner, just four races before they become Aston Martin, and their first since Giancarlo Fisichella took P1 at the 2009 Belgian Grand Prix when the team was racing as Force India. But a disappointed Max Verstappen manged front grid position as he clean swept all the practice sessions with P1 and looked good for his third P1 spot. But it was Sergio Perez who set the time sheets on fire with a blistering lap on the intermediate tyres, while all others were battling on wets to set a time. Inspired by the pace of Perez, the rest of grid start opting for intermediates; but none except Red Bulls could manage a better time as Albon goes fourth.
Renault's Daniel Ricciardo slotted into fifth for the second consecutive race on wets, ahead of championship leader Lewis Hamilton. Daniel's teammate Esteban Ocon managed seventh on wets as Renault dint opt for the gambling on intermediates. The next big surprise was from Alfa Romeo, as the team managed to slot bot their cars in Q3 with Kimi Raikkonen in P8 with team mate Antonio Giovinazzi 10th marking Alfa Romeo's best qualifying performance since Brazil 2019, on the occasion of Sauber's 500th Grand Prix. The second Mercedes of Valtteri Bottas only managed P9, as Mercedes seems to be struggling throughout in the wet conditions.
Both the McLarens of Lando Norris and Carlos Sainz couldn't promote themselves to Q3 as they finished in P11 and P13 sandwiching Sebastian Vettel in P12. His Ferrai team mate Charles Leclerc, who had blistering practice session couldn't replicate the performace in the wets and ended up in P14. The AlphaTauri's of Pierre Gasly and Daniil Kvyat also struggled in damp conditions as they only managed P15 and P17 respectively. Kevin Magnussen in Haas, who had issues with mist in helmet only managed P16 as his team mate Romain Grosjean in P19. The Williams duo of George Russell and Nicholas Latifi classified P18 and P20 as Russell will be required to start his race from the back for using additional power unit elements.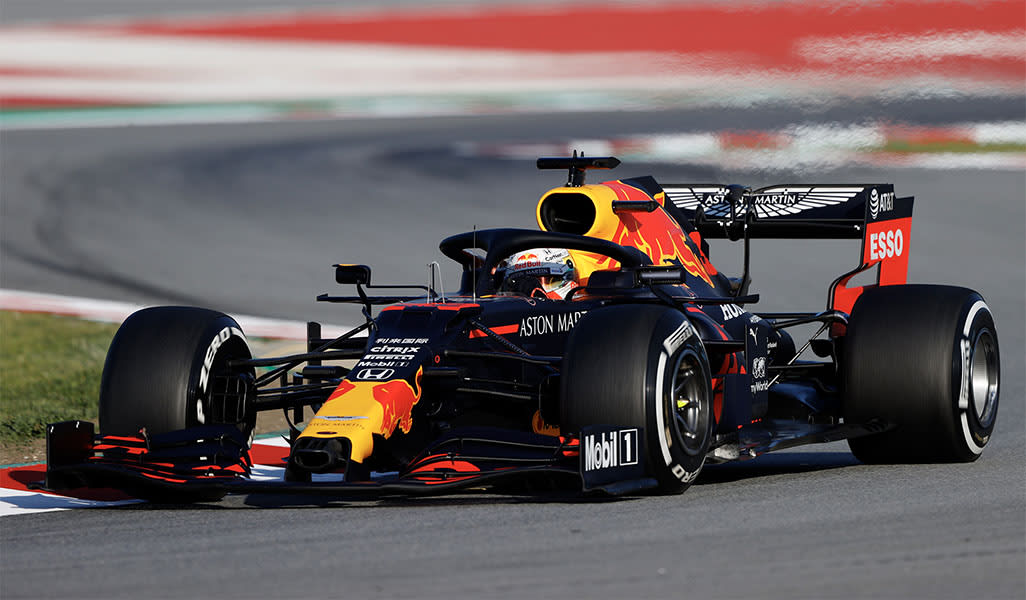 FP3 REPORT - Turkish GP 2020
FP3 session interrupted by heavy rain as Verstappen goes quickest with Leclerc in second and Albon in third
Red Bull's Max Verstappen heads the timesheets in the rain intervened FP3 session as many drivers failed to perform the quali like simulations. Some of the drivers only managed few out laps with only 3 drivers could make more than 10 laps in the final practice session. Ferrari's Charles Leclarc managed secons as Max's teammate Alex Albon finished in third with his 5 hands laps in the session. Renault's Esteban Ocon who tipped Leclerc causing him to spin in early session, finished fourth fastest with McLaren's Lando Norris finished fifth. The second Ferrari of Sebastian Vettel managed P6 as he managed the most mileage in his SF1000 in the FP3 session with 14 laps. Sergio Perez became the best of the Racing Points with seventh place finish.
The best of Mercedes was Valtteri Bottas who managed 4 laps 1 better than his teammate Lewis Hamilton who failed to post a meaningful time in the session classified last in the leaders chart. Bottas is followed by Kevin Magnussen in Hass and Lance Stroll in the second Racing Point with P9 and P10 positions. Daniel Ricciardo of Renault managed eleventh who is the last driver in 10 second margin from the leader. The second McLaren of Carlos Sainz finished P12 as Antonio Giovinazzi of Alfa Romeo finished P13.
Pierre Gasly was the highest-placed AlphaTauri, just behind Giovinazzi while his team mate Daniil Kvyat was 17th, who spun numerous times. And was the last driver to cross the linen with wets. Romain Grosjean who remarked to run rental cars on track for laying some rubber on the surface on Friday night, that's exactly what happened, albeit in vain thanks to the deluge that followed this morning finished P15. Kimi Räikkönen in Alfa Romeo managed the second best mileage of 13 laps corssed the line on P16 with the Williams Duo George Russell and Nicholas Latifi only managed one installation lap also couldn't post a meaningful time.
As there are predictions for rain in qualifying sessions in the evening which will big implications for the re-laid circuit, since drivers were finding it even difficult to get the best grip out of the slicks. It looks like the drivers will be doubtful for unleashing the full wrath of the modern hybrid f1 cars on Saturday afternoon.
ROUND 13 - EMILIA ROMAGNA GP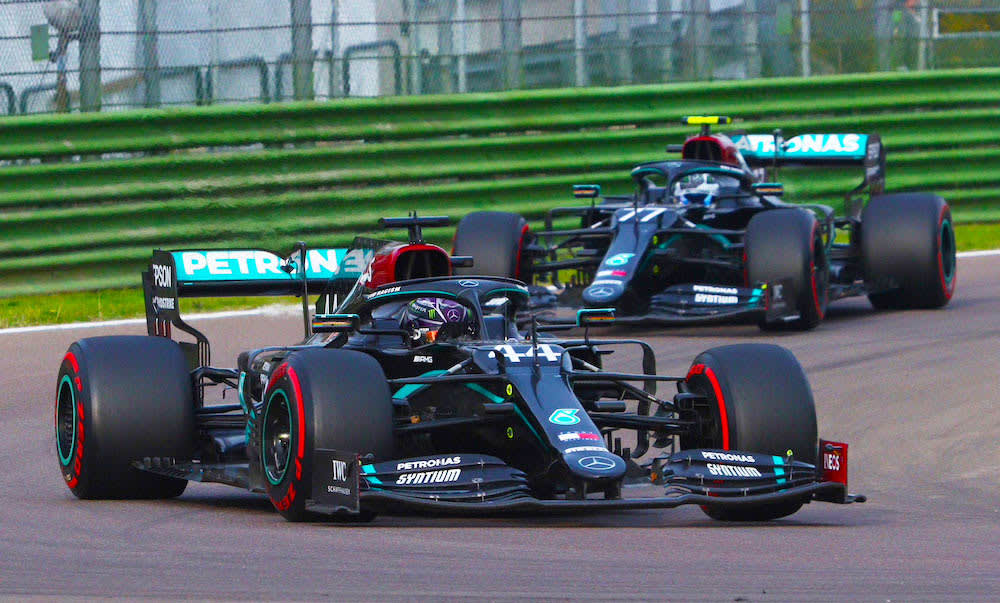 Race REPORT - EMILIA ROMAGNA GP 2020
Hamilton wins in Imola as Mercedes clinches their seventh straight constructors' championship
Mercedes claims their record seventh consecutive constructors' title at the Emilia Romagna Grand Prix, as Lewis Hamilton wins in Imola with his team mate Valtteri Bottas finishing second ensuring Mercedes 1-2 on the historic day for F1. Meanwhile Renault's Daniel Ricciardo secured the second podium of the season for Renault as Red Bull's Max Verstappen retired from P2 after a tyre issue on lap 51. AlphaTauri's Daniil Kvyat, who is yet to confirm a seat in 2020 surprises every one with a brilliant fourth with Ferrari's Charles Leclerc in fifth. Along with a better team strategy and a brilliant drive helped Charles to hold off the Racing Point of Sergio Perez, who missed the trick with a late stop under the Safety Car.
The McLaren and Alfa Romeo duos rounded of the top ten list with Carlos Sainz and Lando Norris claimed P7 and P8, Kimi Raikkonen leading Antonio Giovinazzi in P9 and P10. Aided by a brilliant strategy with an extended 49-lap stint medium tyre management from Kimi helped Alfa Romeo took their first double points finish of the year. Nicholas Latifi finished eleventh agonisingly close to points for Williams. Struggling Sebastian Vettel, thanks to a horrible pit stop by Ferrari spoiled the race for him and only could manage a disappointing twelfth. Lance Stroll, after the first lap tangle and a broken front wing managed thirteenth spot in the list.
Romain Grosjean for Hass crossed the line in fourteenth while his team mate, Kevin Magnussen had to retire the race in lap 50 after a terrible head ache. Alexander Albon disappoints again for Red Bull after a silly driver error forced the Thai driver to spin towards the last stint on the race became the last person of the finished drivers. An unusual mistake from George Russell, forced him spinning and ending up on the barriers as he tries to warm his tyres during the safety car. Esteban Ocon in the second Renault forced to park his car on the green in lap 29 with a a suspected gearbox issue. Meanwhile, after a brilliant qualification on Saturday, AlphaTauri's Pierre Gasly suffered a coolant leak that forced him to retire from the race on Lap 8. With Mercedes wrapping up the constructors' title of 2020 it is now matter of time to decide on the drivers' championship as it is looks like another Mercedes driver to crown the champion in 2020.
ROUND 12 - PORTUGUESE GP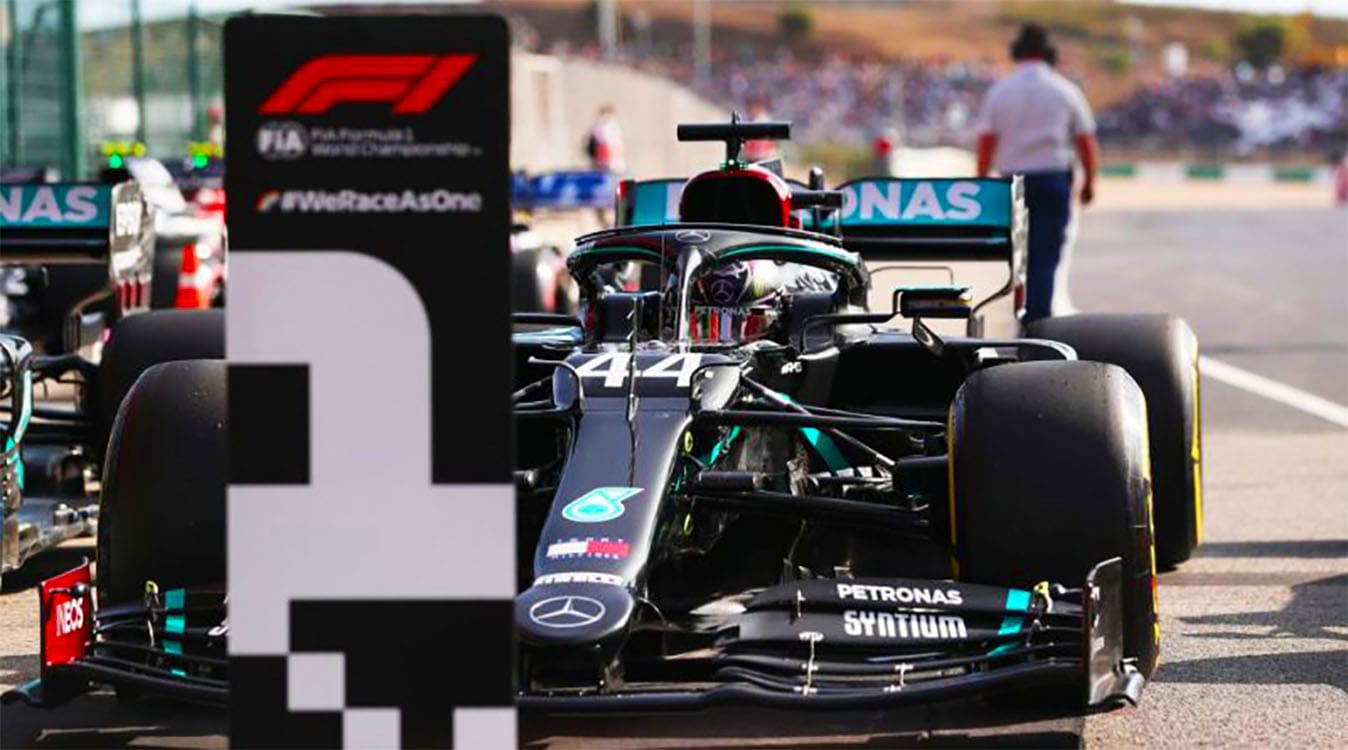 Race REPORT - Portuguese GP 2020
Hamilton triumphant at Portimao and breaks the record of 92 victories, becoming the most successful driver with most wins in Formula 1
Lewis Hamilton of Mercedes secures his 92nd race win in Formula 1 career and became the most successful driver in terms of victories in Formula 1 history, at Portimao in Portuguese GP. Although started from pole position, Hamilton got passed by both Bottas and McLaren's Carlos Sainz after a dramatic opening lap, as the Mercedes team mates struggled to get their medium tyres working. By the next lap Sainz took lead from Bottas promising a interesting race ahead. Verstappen also had issues in the first lap, as he got tangled with Sergio Perez and sending the Mexican spinning, forcing Racing Point to take an early pit stop. Meanwhile Mercedes duo quickly re-passed Sainz who eventually ended his race in sixth, once the tyres are back to the working temperature. Later Verstappen crossed the line third and Ferrari's Charles Leclerc impressed again with fourth place, cementing the comment from his team mate Vettal "Monegasque is currently in another league". Pierre Gasly finished a fantastic fifth with lots of action packed overtakes throughout the race. A humongous effort from Perez's put him to fifth but ended his race in seventh, as the Mexican got passed in the final stages by both Gasly and Sainz.
Even though, the Renault duo Esteban Ocon and Daniel Ricciardo struggled, they crossed line in a decent eighth and ninth respectively at chequered flag. Sebastian Vettel in the second Ferrai rounded of the points with a tenth place finish. Veteran Kimi Räikkönen once gain amazed with his performance and narrowly missed the point finish. The agony for Alexander Albon continues as he only could manage a P12 place which means his seat in Red Bull will be questioned again by the critics and by the Red Bull management.
Lando Norris has a bad race after the collision by Racing Point's Lance Stroll only managed a thirteenth place. However, the Canadian received a 5 second penalty for causing the collision and another 5 second penalty for track limits infringements, before Racing Point retired his car. George Russell in Williams finished in fourteenth after showing the glimpses of his performance during the race. The second Alfa Romeo of Antonio Giovinazzi crossed the line in 15th place ahead of both Haas drivers Kevin Magnussen and Romain Grosjean. The second Williams of Nicholas Latifi finished in 19th ahead of Daniil Kvyat in AlphaTauri rounded of the classified driver list. The return of Portuguese Grand Prix will be remembered for the moment which Lewis Hamilton became Formula 1's most successful driver of all time in terms of victories, a mighty record from the six-time World Champion in F1.
ROUND 11 - EIFEL GP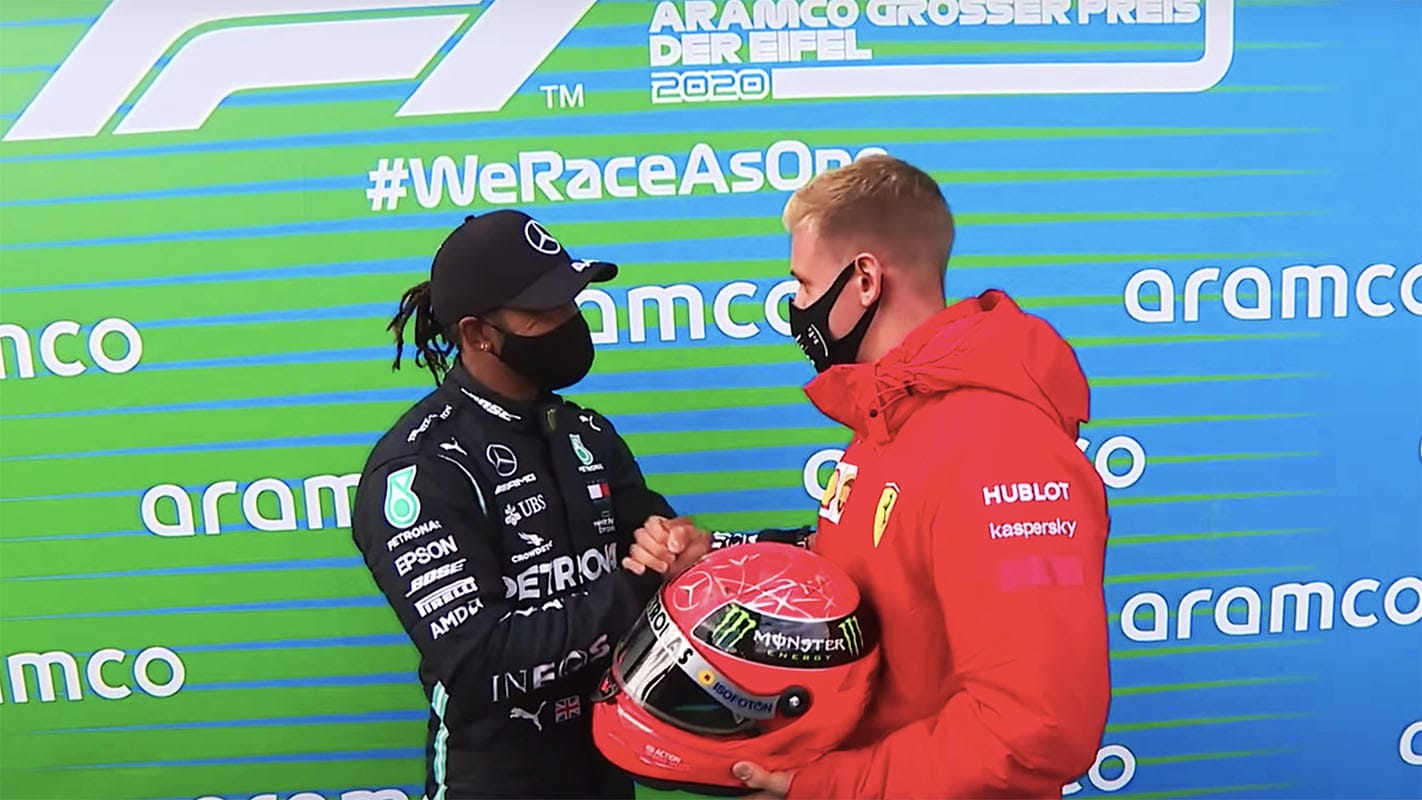 Race REPORT - EIFEL GP 2020
Hamilton wins Eifel GP and takes record equalling 91st victory as Ricciardo claims his first podium with Renault
Mercedes's Lewis Hamilton has paralleled win record of Michael Schumacher with his 91st F1 victory at Eifel GP 2020 as his pole sitting team mate Valtteri Bottas had to retire his W11 due to a loss of power, which is incidentally Mercedes's first DNF of 2020. As part of the immediate post-race interviews, Hamilton was presented with one of Michael Schumacher's race helmets by Mick Schumacher, who congratulated him on the historic achievement. "I'm so honoured. I really appreciate that," Hamilton told Mick Schumacher after being handed the red Mercedes helmet. Red Bull's Max Verstappen crossed the line in P2 with the fastest lap point on his lat last towards the chequered flag. Meanwhile Daniel Ricciardo secured his first podium for the Renault team, since his win for Red Bull at Monaco in 2018. This also the first podium for Renault since returning to the sport in 2016.
Racing Point's Sergio Perez came home in P4 after a tough battle with Daniel for the final podium place. Carlos Sainz of sole remaining McLaren finished P5 had a stealthily brilliant race from AlphaTauri's Pierre Gasly saw him take P6 after a late pass on Ferrari's Charles Leclerc. The second Racing Point of super sub Nico Hulkenberg, who did a fine cameo job in place of Lance Stroll to jump from P20 to P8. With such short notice, that he couldn't even take part in practice on Saturday, joined the team few minutes before the qualifying did an awesome race which earned the driver of the day. Romain Grosjean of Haas secured his first points of the season finished in P9, while Alfa Romeo's Antonio Giovinazzi claimed the final points paying position, just holding off the Ferrari of Sebastian Vettel.
Sebastian Vettel in the second Ferrari disappoints again with a pointless finish in P11 ahead of Kimi Räikkönen of Alfa Romeo who broke the record with 323rd start. Kevin Magnussen in second Hass crossed the line in P13 with Nicholas Latifi in Williams in p14 and Daniil Kvyat inn second Alpha Taruri rounded of the drivers who completed the race. Earlier George Russell had to retire his car after colliding with Kimi followed by Valtteri Bottas who retired due to a power loss. Later Bottas was joined by the Renault of Esteban Ocon, the Red Bull of Alex Albon, and the McLaren of Lando Norris due to meachanical issues. Now all eyes turns to Renault team boss Cyril Abiteboul who is getting a tattoo as Riccardo announces that "It's real; It's going to happen" during the postrace interviews.
ROUND 10 - RUSSIAN GP
Race REPORT - Russian GP 2020
Mercedes' Valtteri Bottas wins in Sochi with Verstappen in Second and Hamilton in third
Mercedes' Valtteri Bottas claimed his second victory of 2020 at the Russian Grand Prix, as a ten second penalty for the pole setter Lewis Hamilton forced him to third. Meanwhile, Max Verstappen scored Red Bull's first ever podium at Sochi in P2. Hamilton started the race with the investigation on for a pair of practice start infringements on his laps to the grid. Later 5 seconds penalty for each incident was handed to Hamilton during mid-race, ruling him out of contention for the win. Incidentally, Hamilton will get a licence penalty point for each of the two time penalties received in this race. This will take his penalty tally to 10,two short of a race ban. Earlier, Bottas had passed Verstappen for second at the race start, and Verstappen himself plunged to fourth later recovered to third from where both enjoyed a trouble free race to the chequered flag. This would have been an confidence booster for Bottas, who needs to be fighting for the championship with Hamilton and Verstappen too after two DNFs.
Racing Point's Sergio Perez came home with fourth behind the podium positions. Renault's Daniel Ricciardo, after a 5 second penalty had enough pace in hand to maintain P5 at the flag, ahead of the Ferrari of Charles Leclerc in sixth. Esteban Ocon in the second Renault, who let his team mate pass in race after failing to overtake Leclerc, crossed the line in P7. Home hero Daniil Kvyat impressed in his AlphaTauri with P8 finish ahead of his teammate of Pierre Gasly. Pierre Gasly himself had a personal moment in the race with the Red Bull of Alex Albon, who came home P10, having started P15 after receiving a five-place penalty for changing his gearbox.
Antonio Giovinazzi in Alfa Romeo crossed eleventh ahead of Kevin Magnussen in Haas. Sebastian Vettel in the second Ferrari disappoints again with a P13 finish who had few interesting battles with two Renault cars in between the race. Behind Vettel, Alfa Romeo's Kimi Raikkonen finished P14 as he matched Rubens Barrichello's tally of 322 F1 starts. This means the Finn is set to make a record his own at the upcoming Eifel Grand Prix at Germany. Lando Norris in McLaren on could manage P15 as Willams' Nicholas Latifi finished in P16. Romain Grosjean in the second Haas and George Russell in the second Willams rounded off the race finishers. Meanwhile, McLaren's Carlos Sainz who ripped the front right corner off his car while trying to re-join the track at Turn 3, and Racing Point's Lance Stroll who was tagged by Charles Leclerc at Turn 4, are the two DNFs of the race. These two events invoked the safety car in the first lap which were the only incidents, otherwise a trouble free race event, after the double red flagged races in Italy.
ROUND 9 - TUSCAN GP
Race REPORT - Tuscan GP 2020
After two red flag stoppages at Mugello, Hamilton wins the first ever Tuscan GP with Bottas in second as Alex Albon secures his maiden podium.
Lewis Hamilton take victory at Mugello in an absolute thriller with Mercedes team scored yet another Merceres 1-2 in Ferrari's 1000 GP race. The action-packed race witnessed multi-car crashes within the first 10 laps, two red flag stoppages and an exciting sprint race like finish helped Alex Albon score his first F1 podium. Valtheri Bottas for Mercedes only could manage a second, after a great start in the be first stint and eventually finised +4.880s behind Hamilton. Meanwhile, Albon pulled off a fantastic move on Renault's Daniel Ricciardo in the last part of the race to claim an important third for Red Bull, after his team mate retired the race in the first lap incident. Ricciardo come home in fourth, tantalisingly close to his first podium with Renaultas Sergio Perez finished fifth for Racing Point.
Lando Norris finished in sixth for McLaren, ahead of the AlphaTauri of Daniil Kvyat in P7. Ferrari's Charles Leclerc classified eighth at the team's 1000th GP. Alfa Romeo's Kimi Raikkonen crossed the line in eighth but classified as ninth after receiving a five-second race penalty for crossing the line at pit entry. The second Ferrari of Sebastian Vettel finished in points rounding out the top 10. Williams' George Russell finished in 11th, agonizingly close to the team's first point finish of the year, as he was running ninth in the last restart after the second red flag of the race. Haas' Romain Grosjean finished 12th of the 12 runners classified.
Racing Point's Lance Stroll went off at Arrabbiata 2 while holding fourth place on lap 43 and crashed into the tyre barriers which brings out the Safety Car and later red flagged as the barriers needs to be checked and repaired. Replays show that Stroll may have picked up a rear tyre puncture, the Canadian helpless as the rear slides away and he flies through the gravel and into the barriers. Earlier, in the beginning of the race Verstappen dropped back after just a poor start, and behind Gasly was squeezed between a Raikkonen and Grosjean sandwich. Those three battling came up to the Red Bull to punt him out the race. Last week's race winner Gasly also had to retire early after the incident with Max as he too wound up in the gravel. This brings the first safety car and the race restarted on 7 as Sainz, Giovinazzi and Magnussen have all collided and are parked up on the main straight on the restart brining red flags. Replays show that Magnussen was going very slowly at the restart. Giovinazzi was straight in the back of him, and then those two collected Sainz and Latifi. Esteban also had to retire his car due to brake overheating during red flag period.
ROUND 8 - ITALIAN GP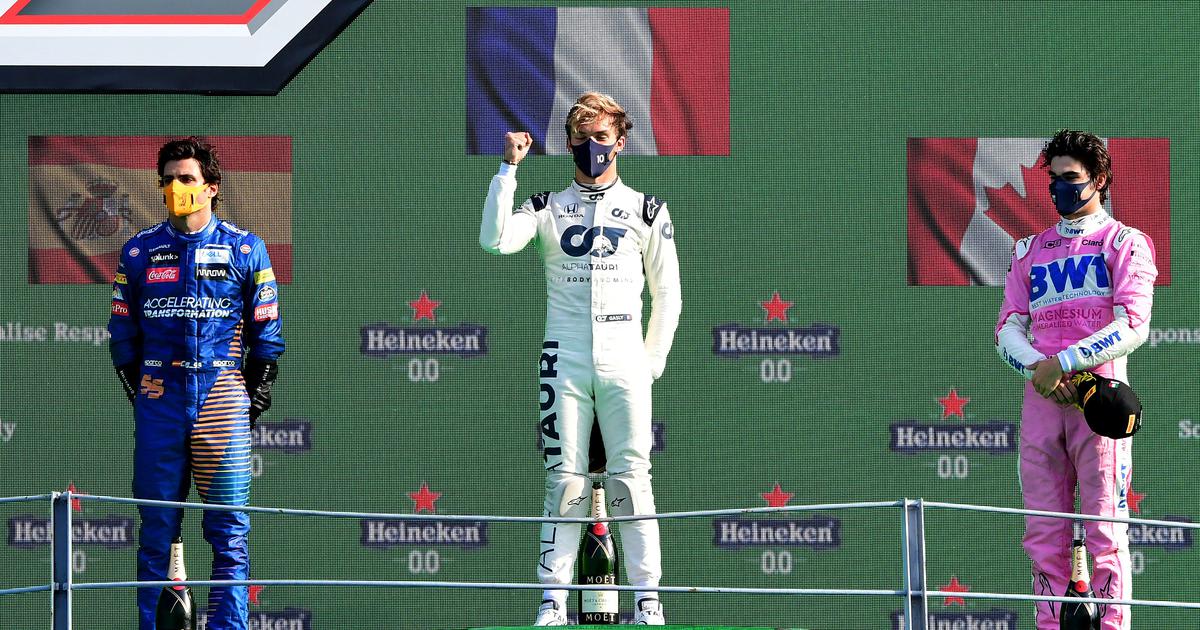 Race REPORT - Italian GP 2020
Pierre Gasly for Alpha Tauri takes his maiden win in "Sprint Race" like Italian GP with Sainz in second and Stroll in third
AlphaTauri's Pierre Gasly claim his maiden Formula 1 victory at an eventful 2020 Italian Grand Prix. In one of the most remarkable F1 races ever had, McLaren's Carlos Sainz finished second, with Racing Point's Lance Stroll completing the podium. The eventful scenes of Italian Grand Prix started by a Safety Car brought out as Kevin Magnussen retired his car just outside the pit lane. Meanwhile Lewis Hamilton and Antonio Giovinazzi dived into the pit lane when it was closed, whereas rest of the drivers stayed in the race. Later Hamilton and Giovinazzi was handed stop and go penalty. This helped Gasly at the head of the field, as he had pitted just before the Safety Car was brought out. But on Lap 24, Charles Leclerc had a huge crashed at the Parabolica, which brought 25-minute red flag period. Leclerc was able to climb from his car for every one's relief. But when the race got underway with a second start, the Frenchman hold his place brilliantly to take a sensational maiden win in Formula 1 at AlphaTauri's home race.
Lando Norris finished a brilliant fourth for McLaren, holding off the leading Mercedes of Valtteri Bottas in P5, The Finn had a poor start that left him sixth at the end of Lap 1. Ricciardo for Renault took sixth ahead of Hamilton, who recovered well from his penalty to take P7 from the last spot. The Second Renault of Esteban Ocon crossed eight,as the second AlphaTauri of Daniil Kvyat in P9 and the Racing Point of Sergio Perez rounding out the top 10. Nicholas Latifi finished just outside the points in P11. There were high emotions in the Williams garage ahead of the Italian Grand Prix, as outgoing Deputy Team Principal Claire Williams, on her family's final race with their historic team waves out Nicholas Latifi into the pit lane before the race.
Romain Grosjean for Haas finished 12th ahead of Alfa Romeo's Kimi Räikkönen, who was at P4 during restart after the red flag, while having been P3, Raikkonen fell as far as 13th by the end of the race. George Russell in second Williams finished P14. Alexander Albon was the sole RedBull finisher, only could manage P15 as he was handed a five-second race penalty for squeezing Romain Grosjean's Haas into Turn 1. The second Alfa Romeo of Antonio Giovinazzi rounded off the finishers list in P16. As both Ferraris had to retire from their home race, RedBull's Max Verstappen also forced to retire on Lap 31, as the team spotted an issue on the PU. So, the 2020 Italian GP has become the first race in the turbo-hybrid era that a Mercedes, Red Bull and Ferrari hasn't finished on the podium.
ROUND 7 - BELGIAN GP
Race REPORT - BELGIAN GP 2020
Hamilton dominates and wins his fourth win at Spa with Mercedes 1-2 finish as Verstappen finished in third
Mercedes' Lewis Hamilton from the pole. leading every lap, took fifth victory of the season at the Belgian Grand Prix. Meanwhile his team mate Valtteri Bottas couldn't overcome the first lap slipstreaming contest down to Les Combes, only to cross the line in second as Red Bull's Max Verstappen took third to maintain his record of finishing on the podium in each race of 2020 season. Bottas finished eight seconds behind his team mate, with Verstappen a further seven seconds in P3.
Renault's Daniel Ricciardo finished fourth which was the team's best of the year, crossed the line under four seconds behind Verstappen with the last lap fastest lap point. His team mate Esteban Ocon also impressed by overtaking the struggling Red Bull of Alex Albon on the final lap to take fifth. Albon could hold onto sixth from the McLaren of Lando Norris who finished under 1 second from the Red Bull car. An impressive drive aided with a good strategy helped Pierre Gasly to take eighth for AlphaTauri. Meanwhile the Spa specialists Racing Points, could only manage P9 and P10 with Lance Stroll leading Sergio Perez rounded top 10.
The second Alpha Tauri of Daniil Kvyat finished eleventh with Kimi Räikkönen of Alfa Romeo in twelfth. Notably Kimi finished ahead of both the Ferrari drivers Sebastian Vettel and Charles Leclerc who finished out of the points in P13 and P14 respectively. It was a extremely frustrating Spa weekend for ferrari with tough qualifying followed up by an equally burdensome race, with the team's cars coming home in the positions they'd started in, but Sebastian Vettel having moved ahead of Charles Leclerc. Both Haas drivers crossed the line in 15th and 17th with Romain Grosjean leading his team mate Kevin Magnussen. Nicholas Latifi of Williams spitted the Haas drivers and finished 16th. McLaren's Carlos Sainz was unable to take the race start after a power unit issue, Meanwhile a big crash for Alfa Romeo's Antonio Giovinazzi ended his race in lap 11, with Williams' George Russell arriving on the scene and hitting Giovinazzi's wheel, which forced his own retirement. Luckily both drivers emerged unhurt.
Check out the positions of Top-5 drivers at the time Hamilton crossing the finish line.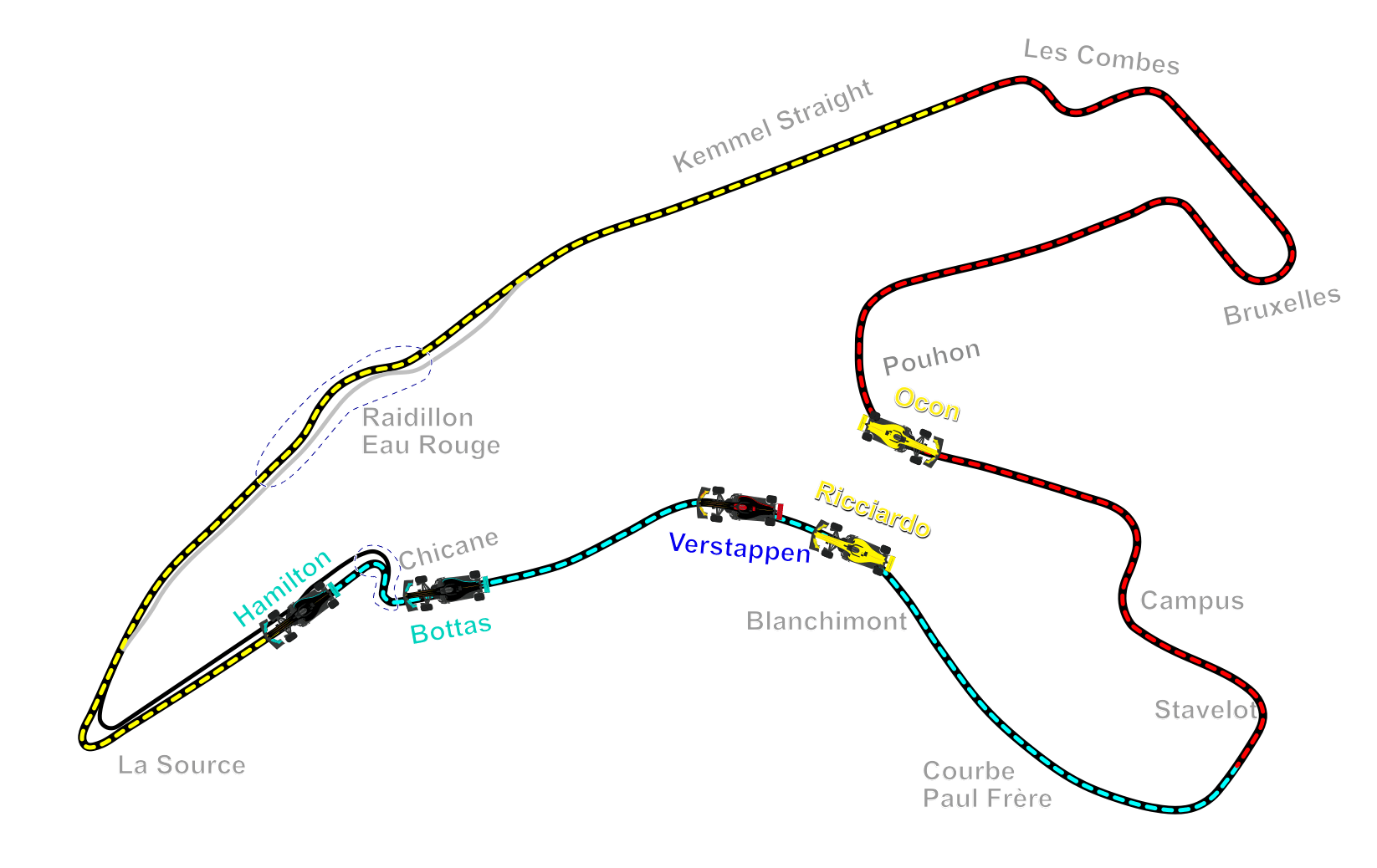 ROUND 6 - SPANISH GP
Race REPORT - Spanish GP 2020
Hamilton dominates and wins his fifth Spanish GP win with Verstappen in P2 splitting Mercedes
Mercedes' Lewis Hamilton, after leading every lap from pole to finish completed his fifth Spanish Grand Prix win, and his fourth victory of the 2020 season with Red Bull's Max Verstappen coming home ahead of the sister Mercedes of Valtteri Bottas. After having a good start, Hamilton stormed in to first turn and never looked back executed a near perfect race even calling the (best) strategy to put mediums while his engineers opted for red softs. Verstappen also had a great start, jumped to second at the getaway, but could not challenge Hamilton as he finished 24s adrift. But Bottas had a poor start dropping him from P2 to P4 off the line, before eventually recovering to third in the beginning of the race without causing any issues. But a wrong strategy of using a set of used softs couldn't help him catch Verstappen as he was pushed into traffic after the first pit stop. Eventually Bottas finished +44.752s behind his teammate.
Racing Point's Sergio Perez crossed the line in fourth but forced to as a five-second penalty for ignoring blue flags, promoting Lance Stroll P4. Perez eventually slotted into fifth, ahead of the McLaren of Carlos Sainz who maintained his 100% record of finishing in the points at his home race. This time Ferrari of Sebastian Vettel was in the points, as his late call on the one-stop strategy helped him to cross the line in seventh. The second Red Bull of Alexander Albon only managed eight as his strategy of pitting early for hards never paid off and more over spoiled his chances as he was pushed into the traffic after the first pitstop, raising eye brows again for a bad strategy call. Pierre Gasly of AlphaTauri had a good race with some impressive moves in the mid field finished in ninth spot ahead of second McLaren of Lando Norris, this time no last lap magic rounded top 10 list.
Unfortunately, the two Renault drivers disappoints as they failed to materialize the expected strong race pace on race day as Daniel Ricciardo finished 11th with Esteban Ocon 13th. The alternate strategy of one pit stop also not helped the yellow and black cars as the both cars couldn't finish in points. The second AlphaTauri of Daniil Kvyat, after a five-second penalty for ignoring blue flags, as like Sergio, splits the two Renaults and finished 12th outside the points. Kimi Räikkönen finished in 14th the same spot he started the race from. In between Kimi Raikkonen breaks record for most miles driven in sport's history after completing lap 37 of the Spanish Grand Prix on Sunday. The Finn has raced over 50,000 miles – more than twice the circumference of the Earth.
Kevin Magnussen of Haas finished fifteenth ahead of the second Alfa Romeo of Giovinazzi who finished in 16th. The two Williams of George Russell and Nicholas Latifi finished P17 and P18. The second Haas of Grosjean Romain Grosjean was classified 19th and last after a half-spin at Turn 8 on the penultimate lap. Also, he might have some explaining to do in the next Grand Prix Drivers' Association meeting, after he once again executed a late defensive move on Raikkonen. Ferrari's Charles Leclerc, the only driver to retire from the race, after suffering an electrical issue at the halfway point that pitched him into a spin at Turn 15, before eventually retiring his SF1000.
ROUND 5 - 70TH ANNIVERSARY GP
Race REPORT - 70TH ANNIVERSARY GP
Max Verstappen defeats Mercedes at Silverstone and wins Formula 1's 70th Anniversary Grand Prix.
Max Verstappen has become the first non-Mercedes driver to win a race in 2020 F1 season aided with incredible driving and a brilliant strategy by the team. The interesting choice of tyres made by the F1 for the 70th Anniversary Grand Prix produced an action-packed racing throughout the grid, encouraging teams to try out wide variety of strategies. Verstappen being the only driver in the top 10 to begin the race on the hard tyres. quickly passed the Racing Point of Nico Hulkenberg in P3 and he managed his pace brilliantly throughout the race, pressuring the Mercedes and forcing them to take alternative strategies secures his first victory since Brazil last year and Red Bull's first win at Silverstone since 2012.
Lewis Hamilton of Mercedes accomplished a late-race surge on his team mate Valtteri Bottas with two laps to go into Brooklands to claim second place there by equaling the number of podiums finishes by Michael Schumacher. Meanwhile Bottas, probably the biggest looser of race, second time in three years that has failed to convert a Silverstone pole into a win, as he has to settle with third only after a questionable strategy performed by Mercedes team backing Hamilton to perform better in the last stint of the race.
Ferrari's Charles Leclerc with a one-stop work to claimed P4, while his team mate Sebastian Vettel could only manage P12, due to an early spin at the first corner of the race. Alex Albon took an impressive fifth in the second Red Bull, passing the Racing Point of Lance Stroll with a lap to go. Both Racing point drivers could not keep up the qualifying performances in the race as Stroll finished P6 ahead of stand-in team mate Nico Hulkenberg, who stopped very late on for soft tyres, later clarified that the Nico has reported a significant vibration towards the end of the race. Renault's Esteban Ocon finished P8, ahead of the McLaren of Lando Norris in P9 and the AlphaTauri of Daniil Kvyat in P10, despite of his lower starting position, finished ahead of his team mate Pierre Gasly.
The second Mclaren driver Carlos Sainz finished 13th and the Renault of Daniel Ricciardo who had spun battling Sainz in the middle phase of the race could only manage a disappointing P14, who started 5th. Kimi Räikkönen of Alfa Romeo finished P15 from the last place of the start grid as his team mate Antonio Giovinazzi finished 17 just behind the Hass of Romain Grosjean who finished 16th. Both Williams drivers disappoints as they got rooted in the back of the grid with George Russell in 18th and Nicholas Latifi in 19th. Kevin Magnussen, the only non-finisher had to retire the car towards the end of the race.
ROUND 4 - BRITISH GP
Race Report - British GP
L"ucky" Hamilton wins seventh British Grand Prix with a punctured tyre; Verstappen finishes second and Leclerc in third after a last lap tyre drama
Lewis Hamilton completes a hat trick win in 2020 season and accomplishes his seventh victory in the British Grand Prix in spite of his left-front tyre letting go in the last lap. Before taking the chequered flag, Mercedes were dominant and lead the race with 1-2 till 51st lap out of 52 laps. On lap 50, then second-placed Valtteri Bottas suffered a uncommon tyre puncture costing him second place and finished 11th. Hamilton suffered the same issue half a lap still to go, but was able to complete the race with the punctured tyre without losing any places. However, "lucky and unlucky" Verstappen who pitted a few laps from the end for claiming fastest lap, crossed the line five seconds (which was around 35 seconds on final lap) behind of limping Hamilton. Charles Leclerc finished an unlikely third, after a lonely race in his Ferrari with nearly 13 seconds behind Max.
Renault's Daniel Ricciardo claimed fourth as McLaren's Carlos Sainz, who was set to finish fourth, had a similar tyre issue which dropped him P13. The other McLaren of Lando Norris crossed the line in fifth as he was able to keep up his reputation of overtaking at least 1car in the last lap. Renault's Esteban Ocon finished sixth who had a race-long personal battle with the Racing Point of Lance Stroll, with Pierre Gasly finished seventh for AlphaTauri. Stroll was only able to finish 9th with Alex Ablon overtaking him in the last lap. Meanwhile Albon finished eighth for Red Bull, after recovering from a Lap 1 tussle with the Haas of Kevin Magnussen and a 5 second penalty (for causing the accident with Kevin). Sebastian Vettel finished 10th after holding off a late charge from the recovering Mercedes of Bottas, who finished 11th.
George Russell of Williams finished an impressive 12th with Carlos Sainz on his tail. Alfa Romeo's Antonio Giovinazzi finishes 14th with his team mate, Kimi Räikkönen with a struggling and damaged car in plum last. The lone ranger, Nicholas Latifi finished 15th and the man with alternate statergy Romain Grosjean of Haas finished a fighting 16th. AlphaTauri's Daniel Kvyat suffered that misfortune just 13 laps into Sunday's British Grand Prix, as his car snapped sideways through the left-handed swoop and speared into the barriers. Kevin Magnussen after his tussle with Alex also could not complete his race. Meanwhile, Nico Hulkenberg could not even start his race as the Racing Point team discovered a technical issue on the RP20 that he'd taken over from Sergio Perez on Friday.
ROUND 3 - HUNGARIAN GP
Race Report - Hungarian GP 2020
Hamilton clinches his 'EIGHTH' Hungarian Grand Prix win, with Verstappen in second and Bothas in third
Mercedes' Lewis Hamilton wins eighth Hungarian Grand Prix victory and he is now tied with Michael Schumacher's record for most number of wins at a single venue. Starting from pole, Hamilton quickly build a comfortable lead in the early laps. He miraculously managed the medium tyres and his pace over his rivals in the race at the Hungaroring. At the chequered flag he was having a comfortable 8.7s lead to Verstappen and sealed his hat-trick win at Hungaroring.
Verstappen had an embarrassing crash into the Turn 12 wall on his lap to the grid that required some urgent repairs. But an extraordinary effort by his crew, completed the full repair in time made Max feel the car as 'Brand New'. 'Second feels like a win' says Verstappen at post race as he had to recover from the crash and the Dutchman had to hold off the vicious attack by third place Valtteri Bottas in the final stages of the race.
Racing Point's Lance Stroll couldn't convert his P3 grid position into the team's first podium of the year as he came home a distant fourth. His teammate Perez also coudn't keep the second row start, but only able to finish at 7th after a poor start. The rejuvenated Red Bull's Alex Albon late pass on the Ferrari of Sebastian Vettel gave Albon P5, who started who started 13th. although Red Bull were summoned to the stewards after the race for allegedly drying Albon's grid spot ahead of the race start. Vettel finished at P6 and hold off the second Racing Point of Sergio Perez in the final laps of the race.
Renault's Daniel Ricciardo had an impressive P8 with a remarkable tyre managed race. An inspired strategy from Haas helped Kevin Magnussen take the team's first points of the year, with Magnussen and Romain Grosjean pitting for slicks at the end of the formation lap as their rivals started on intermediates on the drying track. Kevin finished P9 and Grosjean P15. Best of the McLarens was Carlos Sainz who finished P10, thanks to a late-race pass on the Ferrari's Charles Leclerc, who ended up 11th. His teammate Lando Norris, only could manage P13.
Alpha Tauri's Daniil Kvyat finished P12 with his teammate Pierre Gasly had to retire his car with smoking engine, who was the sole retirement of the race.
Renault's Esteban Ocon finished P14 with two Alfa Romeos finishing at P16(Kimi)and P17(Giovinazzi). Williams could not replicate the majestic form in the qualifying, finished a disappointing 18th and 19th, with George leading his teammate Latifi.